Fortney 'Pete' Hillman Stark, Jr.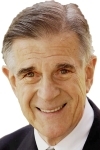 Birthdate: Nov. 11, 1931
Birth Place: Milwaukee, WI, United States
Residence: Fremont, CA
Religion: Unitarian (atheist)
First Elected: 1972
Gender: Male

Candidacy
Education
Pete Stark was born in Milwaukee, Wis., and now lives in Fremont, Calif. He earned a bachelor's in engineering from the Massachusetts Institute of Technology in 1953 and a master's in business administration from the University of California-Berkeley in 1960.
Stark served in the Air Force from 1955 to 1957. In 1963, he founded Security National Bank, a small federally chartered bank in Walnut Creek, and was president until 1972.
The bank grew within nine years to a $100 million network of suburban bank branches in two counties, and Stark's personal wealth grew to $8 million.
He was elected to the U.S. House in 1972.
He and his wife, Deborah, have four daughters and three sons.
Profile
Pete Stark's nearly four decades in Congress have been defined by his work on health care and his reputation as a volatile and confrontational politician.
He is running for re-election in 2012 in the newly drawn 15th District, created as a result of a California redistricting initiative passed during the 2010 election.
Stark finished first in the three-way race in California's 2012 top-two primary election, but he made a number of embarrassing gaffes, including accusing his young Democratic challenger Eric Swalwell of taking bribes _ an accusation that proved untrue.
A staunch supporter of the 2010 health care reform law and a passionate proponent of universal health care, Stark scored a victory when the Supreme Court upheld the law in June 2012. He worked to pass the bill and, since its passage, his health subcommittee has held hearings on further strengthening and expanding the national law.
His expertise on the subject of health care has earned him standing within the Democratic Party and he chairs the Ways and Means subcommittee on health. He has authored a COBRA health insurance law that enabled workers to temporarily keep health coverage after leaving a job and a law prohibiting hospitals from denying care to patients who lack insurance.
But his bombastic personality cost him the chairmanship of the Ways and Means Committee. After Rep. Charles Rangel left the post in March 2010, Democratic colleagues decided they wanted a consensus builder, rather than a firebrand, heading into the midterm elections.
Stark, an opponent of war, once accused Republicans of wanting to send troops to Iraq to "get their heads blown off for the amusement of the president." He later apologized.
Stark famously challenged GOP Rep. Scott McInnis to a fist fight in 2003 during a protest by Democrats on the Ways and Means Committee. He called McInnis a "fruitcake" when McInnis told him to "shut up."
Stark is the first openly atheist member of Congress and the highest-ranking American politician who does not believe in God, according to the American Humanist Association.
Stark has introduced legislation that would prohibit discrimination against adoptive and foster parents based on sexual orientation or marital status. He also introduced a bill that would strengthen protections for immigrant children in the foster care system.
Another bill he sponsored would close a loophole that allows wealthy individuals to avoid paying their fair share of Medicare payroll taxes by forming an S Corporation and reporting artificially low wages.
A House ethics panel found in 2010 that Stark did not violate the law or standards of conduct when he applied a year earlier for a Maryland property tax credit.
The Office of Congressional Ethics had alleged that Stark violated criminal tax law and ethics rules by intentionally filing a false application. He did not get the tax break.
Stark is a staunch liberal and the bank he founded in 1963 was known for posting a peace sign above its headquarters. He is a former member of the U.S. Air Force.
Source: Associated Press