Frank D. Lucas
House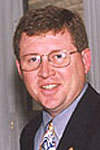 Birthdate: Jan. 6, 1960
Birth Place: Cheyenne, OK, United States
Residence: Cheyenne, OK
Religion: Protestant Christian
First Elected: 1994
Gender: Male

Candidacy
Party: Republican
State: Oklahoma
Office: House
District: District 3

Education
Undergraduate: Oklahoma State University
Degree: BA

Frank Lucas was born in Cheyenne, Okla., where he still resides. He earned a bachelor's degree from Oklahoma State University in 1982.
A fifth-generation Oklahoman whose family has lived and farmed in the state for more than 100 years, Lucas owned and operated a farm and cattle ranch in Roger Mills County.
He was first elected to the Oklahoma House in 1988, at age 28, and served three terms until 1994.
He was elected to the U.S. House in a May 1994 special election. He was elected to his first full term in November 1994.
Lucas and his wife, Lynda, have three children.
Profile
Frank Lucas became chairman of the House Agriculture Committee when Republicans took control of the U.S. House in 2010, and he said the position bodes well for Oklahoma.
But the lifelong farmer and rancher said his role in Congress is not to focus solely on agriculture.
"I just happen to have a very high profile role as chairman of the U.S. House Agriculture Committee," Lucas said in June 2012. "Yes, I have a heavy focus on agriculture, but along with agriculture, along with the energy and industry and along with business. Those are the three things that drive the western Oklahoma economy."
In February 2009, he voted against the approximately $800 billion economic stimulus plan.
Lucas was Oklahoma's only congressman to consistently vote against the 2008 federal bailout bill, saying his constituents in the 3rd Congressional District were overwhelmingly opposed to the proposed rescue plan.
A conservative Republican and Oklahoma's longest serving House member, Lucas said most of his constituents opposed "rewarding the reckless behavior" of Wall Street stemming from the sub-prime mortgage debacle.
"As concerned as I am about our economy, the cost and significance of this bill coupled with the haste in which it was crafted was of greater concern to me," Lucas said in October 2008.
He criticized the bailout as being put together hastily without consultation with rank-and-file members of Congress. "This is not the fault of my folks in the 3rd District of Oklahoma," he said.
Lucas has billed himself as a crusader for the American farmer. His sprawling district stretches across rural western and northern Oklahoma and includes all or part of 32 of the state's 77 counties, taking up nearly half of the state's land mass.
Lucas praised President Barack Obama's selection of former Iowa Gov. Tom Vilsack as Secretary of Agriculture in December 2008, but had harsh words for both Obama and Vilsack in February 2009 over the administration's position on eliminating direct payments to producers.
"Our farmers and ranchers are some of the hardest working people in the U.S. and they are struggling to make a living in a difficult economy," Lucas said.
Lucas is an opponent of gay marriage and has sponsored legislation to allow schoolchildren to say the Pledge of Alliance. He is a strong supporter of the right of Americans to bear arms under the 2nd Amendment.
Lucas said changes are needed in Social Security, but sees no consensus of backing in his district for private accounts. He said balancing the budget "is probably the foremost thing addressing the longtime future of Social Security."
Before redistricting, Lucas represented a portion of Oklahoma City and fought for aid to the state's largest city after the bombing of the Alfred P. Murrah building in 1995.
Lucas authored a comprehensive conservation bill that expanded the 2002 farm bill's conservation programs by $16 billion.
Source: Associated Press