Frank J. Pallone, Jr.
House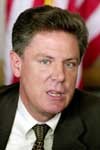 Birthdate: Oct. 31, 1951
Birth Place: Long Branch, NJ, United States
Residence: Long Branch, NJ
Religion: Catholic
First Elected: 1988
Gender: Male

Candidacy
Party: Democratic
State: New Jersey
Office: House
District: District 6

Education
Undergraduate: Middlebury College
Degree: BA

Graduate: Tufts University
Degree: MA

Graduate: Rutgers University
Degree: JD

Frank Pallone was born in Long Branch, N.J., where he still resides. He earned a bachelor's degree at Middlebury College in 1973, a master's degree at Tufts University in 1974 and a law degree at Rutgers University in 1978.
He clerked for a federal judge and then served as an assistant professor at Rutgers University's Cook College.
Pallone served on the Long Branch City Council before being elected to the New Jersey Senate, where he served from 1983 to 1988. He was elected to the U.S. House in 1988.
Pallone and his wife, Sarah, have three children.
Profile
Frank Pallone has been trumpeting his role in helping move along the 2010 health care reform bill despite vehement opposition from many Republicans.
The stance draws a stark contrast on that hot-button issue with Anna Little, his conservative Republican opponent in the 2012 election for New Jersey's 6th Congressional District seat. The tea party-supported Little also ran against Pallone in 2010 and gave him a closer race than many expected, though he still won by more than 10 percentage points.
Little derides the 2010 health care reform law as not only "Obamacare," a phrase many critics use, but also as "Pallonecare," in a jab at the Democrat.
Pallone says in his campaign materials, "Quality healthcare is not a luxury _ it's a necessity and a right. No one should ever have to choose between paying for prescription drugs and stocking their pantry."
Pallone also has established himself as an environmental activist, a position that has served him well in his district's towns along the New Jersey shore.
He has fought both Republican and Democratic presidents who tried to limit federal spending on beach restoration. He helped lead the battle against continued dumping of dredge spoils at the so-called Mud Dump six miles off Sandy Hook.
In 2008, Pallone became one of the most vocal opponents of the stance federal wildlife officials took regarding a group of wayward dolphins that found their way into two rivers near the Jersey shore that summer.
The National Oceanic and Atmospheric Administration said it would leave them alone unless they appeared to be in imminent danger. But many state and federal officials _ including Pallone _ and animal rescue groups wanted the dolphins removed or coaxed out of the river and back out to sea.
Pallone has sponsored legislation that would allow 10-year catch limits on depleted fish species to be lifted if the fish made an early comeback. Advocates of the measure said increasing flexibility in the fish protection act would aid the commercial fishing industry.
Pallone has introduced several pieces of food safety legislation that aim to bolster the Food and Drug Administration's enforcement and regulatory authority over the food industry.
He enjoys strong support from New Jersey's unions, dating back to when he bucked intense lobbying from then-President Bill Clinton and voted against the North American Free Trade Agreement, a measure labor criticized.
Pallone introduced legislation in 2012 that would exempt New Jersey from a federal ban on sports gambling. "The existing federal law is unconstitutional and arbitrary, giving four states access to this billion-dollar industry while shutting out the rest," he said at the time. "The citizens of New Jersey have made it clear they want the opportunity to share in the profits from professional sports betting."
In 2011, he along with Rep. Henry Waxman, a Democrat from California, tried to use his bully pulpit outside of Congress. They wrote a letter to Major League Baseball officials and players union officials calling for testing for human growth hormone and a ban on players chewing tobacco while in uniform and in public view.
Source: Associated Press