Frank R. Wolf
House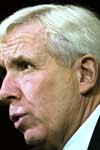 Birthdate: Jan. 30, 1939
Birth Place: Philadelphia, PA, United States
Residence: Vienna, VA
Religion: Presbyterian
First Elected: 1980
Gender: Male

Candidacy
Party: Republican
State: Virginia
Office: House
District: District 10

Education
Undergraduate: Pennsylvania State University
Degree: BA

Graduate: Georgetown University
Degree: JD

Frank Wolf was born in Philadelphia and now resides in Vienna, Va. He earned a bachelor's from Pennsylvania State University in 1961 and a law degree from Georgetown University in 1965.
Wolf served in the Army Reserve and practiced law. He was a legislative aide from 1968 to 1971 for then-Rep. Edward Biester Jr. He was an assistant to then-Secretary of the Interior Rogers Morton from 1971 to 1974, and a deputy assistant secretary of the interior for congressional and legislative affairs from 1974 to 1975.
Wolf was elected to the U.S. House in 1980.
He and his wife, Carolyn, have five children.
Profile
Frank Wolf was the chief author in 2005 of the House resolution that created the Iraq Study Group, whose findings in December 2006 are credited with refocusing the mission of U.S. forces in Iraq.
In 2010, Wolf asked President Barack Obama to establish an Afghanistan-Pakistan study group, saying the group was needed in part to bolster the public's confidence in what is now a 9-year-old conflict _ surpassing Vietnam as the nation's longest running war.
"The American people and their elected representatives do not have a clear sense of what we are aiming to achieve, why it is necessary, and how far we are from attaining that goal," Wolf wrote to the president in seeking the study group.
Wolf has argued since Sept. 11 that efforts to improve counterterrorism shouldn't come at the expense of citizens' existing legal protections.
Wolf is the most outspoken member of Congress when it comes to gambling. He has opposed all new federal recognition for American Indian tribes _ including those Virginia recognizes _ arguing that it will lead to increased casino gambling on Indian property, which he says has corrupted officials at the Bureau of Indian Affairs.
He also sponsored legislation creating a national commission to study the effects of gambling.
"All the evidence I could gather pointed to the conclusion that gambling was harmful to people and to communities," Wolf said. "It led to crime, to corruption, to cannibalization of existing businesses and it certainly caused social ills."
He joined two other GOP congressmen from Virginia in sponsoring legislation in early 2009 to prohibit the federal government from transferring prisoners to the state from Guantanamo Bay, Cuba.
Wolf was instrumental in extending the rail lines of Washington's Metro rapid-transit system into Virginia's 10th District. The district suffers from chronic and acute traffic congestion and Wolf has been part of bipartisan efforts to enact legislation encouraging working from home via computer.
He supported a bill in July 2010 to create government-wide regulations for teleworking and policies to promote telecommuting.
"There's nothing magic about strapping yourself into a metal box and driving 25 and 35 miles a day to a place that's sitting before a laptop when you can do it at home," Wolf said.
He joined three other congressmen in proposing legislation to give school districts a one-year grace period to comply with a federal law that requires children who are learning English to take the same reading tests as their native-speaking peers.
Wolf made news in 2008 when he and Rep. Chris Smith said people working from China had hacked into their office computers. The lawmakers, longtime critics of China's human rights record, said the compromised computers had information regarding political dissidents. China denied hacking into the computers.
In a reliably conservative district, Wolf faces two candidates, a Democratic newcomer and an independent, who pose no risk to his re-election in November 2012.
Source: Associated Press