Frederica Wilson
House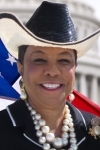 Birthdate: Nov. 5, 1942
Birth Place: Miami, FL, United States
Residence: Miami, FL
Religion: Episcopal
First Elected: 2010
Gender: Female

Candidacy
Party: Democratic
State: Florida
Office: House
District: District 24

Education
Undergraduate: Fisk University
Degree: BA

Graduate: University of Miami
Degree: MA

Frederica Wilson was born in Miami, where she now resides. She earned a bachelor's in 1963 from Fisk University and a master's from the University of Miami.
Wilson is seeking the U.S. House seat vacated by Rep. Kendrick Meek. She has succeeded him in both the Florida House, from 1998 to 2002, and in the state Senate, from 2002 to 2010.
Wilson has worked as a teacher, principal and school board member, and oversaw a program she founded in 1992 to keep at-risk minority boys in school.
She is known for wearing a cowboy hat at virtually every public appearance.
She was elected to the U.S. House in 2010.
Wilson is a widow and has three children.
Profile
Frederica Wilson has focused her professional and political career on improving education and human rights. She has also focused on Haitian issues and voting rights.
As a Miami-Dade school board member, Wilson introduced reading labs and helped add a black history curriculum in schools. She also introduced a "dirty dancing" ban in Miami, and helped free a group of Haitian refugees jailed in South Florida.
During her tenure as a public school principal, Wilson successfully fought to have a compost plant near her school closed.
As a state legislator, Wilson campaigned with then-Gov. Jeb Bush to remove the Confederate flag from the capitol and initiate HIV and AIDS testing in prisons. She worked with Gov. Charlie Crist to restore the voting rights of convicted felons.
Wilson was one of Florida's first elected officials to back then-Sen. Barack Obama's 2008 presidential bid. She later became one of Florida's 27 Electoral College voters to cast a ballot for him.
She won a crowded primary in 2010 before easily winning the general election in a heavily Democratic district. She easily won the 2012 primary and faces no general election opponent.
When she campaigned for the U.S. House, she promised to help laid-off workers and homeowners in foreclosure get back on their feet and filed bills seeking to follow through on the promise. She also helped get the body of a Florida Highway Patrol trooper murdered in Haiti returned home at no expense to his family. Among legislation she's filed is a bill named after Rilya Wilson, a 4-year-old Miami girl who disappeared from foster care. It would require states to have a plan for quickly reporting when a child in state care goes missing in order to receive federal money for foster care and adoption programs.
Source: Associated Press