Frederick 'Fred' Stephen Upton
Frederick 'Fred' Stephen Upton
House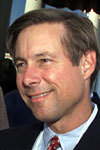 Birthdate: April 23, 1953
Birth Place: St. Joseph, MI, United States
Residence: St. Joseph, MI
Religion: Protestant
First Elected: 1986
Gender: Male

Candidacy
Party: Republican
State: Michigan
Office: House
District: District 6

Education
Undergraduate: University of Michigan
Degree: BA

Fred Upton was born in St. Joseph, Mich., where he still resides. He earned a bachelor's degree from the University of Michigan.
Upton worked for U.S. Rep. David Stockman as a field manager in the 1970s. He later joined Stockman's Washington office before President Ronald Reagan appointed Stockman director of the Office of Management and Budget. Upton managed the unsuccessful campaign of a candidate picked to succeed Stockman during a special election in 1981.
Upton was a legislative assistant for Stockman at the OMB, later becoming assistant director.
He was elected to the U.S. House in 1986.
Upton and his wife, Amey, have two children.
Profile
Fred Upton, the longest-serving Republican in the Michigan congressional delegation, is seeking a 14th term in 2012 representing the state's far southwestern corner.
Up against Democratic challenger Mike O'Brien, a project team leader at furniture company Herman Miller, Upton is trying to sell 6th District voters on how his Washington experience would continue to benefit them.
Upton boasts of helping to "lead the effort to repeal" the 2010 health care reform law backed by President Barack Obama, aggressively pushing for tax relief and supporting a constitutional amendment to balance the budget.
"The voters ... don't really care if you have an 'R' or a 'D' next to your name," said Upton, who first won a seat in the House in 1986 after defeating conservative Republican Rep. Mark Siljander in the primary. "They want the job done. And that's what we've tried to do."
As chair of the Energy and Commerce Committee, Upton led the charge against environmental regulations, butting heads with Obama in March 2012 when the president moved forward with a plan to place the first-ever limits on heat-trapping pollution from new power plants.
Upton also wielded influence as one of only 12 members of the deficit-reduction supercommittee, tasked with finding hundreds of billions of dollars' worth of deficit savings over the next decade.
He supported a bill giving the president line-item veto ability and opposed a cap-and-trade system for carbon emissions because he said it would cost jobs, particularly in manufacturing.
Upton has been active on telecommunications and Internet issues and paid close attention to issues affecting the state's automotive industry.
He didn't back President George W. Bush's call for a constitutional amendment to ban gay marriage in 2004.
Upton generally opposes abortion, but supported federal funding for Medicaid abortions in cases of rape, incest or threat to the life of the mother.
Before coming to Congress, Upton worked in the Office of Management and Budget under President Ronald Reagan and put that experience to work in House budget debates.
Upton prided himself on having perfect attendance in the House when it came to votes _ until 1997. Upton's perfect voting streak ended when his commercial flight sat on a Detroit runway for more than three hours, delayed by a thunderstorm.
Upton's niece, model Kate Upton, appeared on the cover of the 2012 Sports Illustrated Swimsuit issue.
Source: Associated Press