Garland 'Andy' Barr
House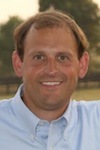 Birthdate: July 24, 1973
Birth Place: Lexington, KY, United States
Residence: Lexington, KY
Religion: Episcopalian
Gender: Male

Candidacy
Party: Republican
State: Kentucky
Office: House
District: District 6

Education
Undergraduate: University of Virginia
Degree: BA

Graduate: University of Kentucky
Degree: JD

Andy Barr was born and raised in Lexington, Ky., where he now resides. He earned a bachelor's in government and philosophy from the University of Virginia in 1996 and a law degree from the University of Kentucky in 2001.
Barr is an attorney and a part-time law instructor at Morehead State University. He worked as a legislative aide to U.S. Rep. Jim Talent, and was deputy general counsel to former Republican Gov. Ernie Fletcher of Kentucky.
Barr unsuccessfully challenged Democratic U.S. Rep. Ben Chandler in 2010, losing by 648 votes.
He and his wife, Carol, have one daughter.
Profile
Andy Barr lost a squeaker of a congressional race in 2010 when Democratic U.S. Rep. Ben Chandler beat him by just 648 votes. It was one of the closest races in the nation that year, though Chandler outspent Barr by more than $1 million in the race.
Barr easily won the May 2012 primary in the central Kentucky district to set up a rematch with Chandler in the November general election.
His 2012 campaign tactic has been to criticize Chandler for being too closely aligned with President Barack Obama.
Barr received political backup from U.S. Sen. Rand Paul who endorsed him ahead of the Nov. 6, 2012 election even though some tea party activists had pledged to sit out the race. That endorsement could be key in what is widely considered the only competitive congressional race in Kentucky in 2012.
Among his proposals is the creation of a task force focused on veterans. The task force would, among other things, help veterans find jobs, decrease the backlog of disability claims, improve mental health treatment, and advocate for prisoners of war and those missing in action.
He supports cutting taxes, reducing federal regulations, solving domestic energy needs with coal and drilling in the Arctic National Wildlife Refuge, and repealing the Affordable Care Act.
Source: Associated Press