Gene Green
House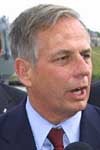 Birthdate: Oct. 17, 1947
Birth Place: Houston, TX, United States
Residence: Houston, TX
Religion: Methodist
First Elected: 1992
Gender: Male

Candidacy
Party: Democratic
State: Texas
Office: House
District: District 29

Education
Undergraduate: University of Houston
Degree: BA

Graduate: University of Houston
Degree: Attended

Gene Green was born in Houston, where he still resides. He earned a bachelor's in business administration at the University of Houston, where he also attended law school. He didn't finish but was admitted to the bar at age 30, after he had served in the state Legislature.
Green served 12 years in the Texas House of Representatives and seven years in the state Senate.
He was elected to Congress in 1992.
Green and his wife, Helen, have a daughter and a son.
Profile
Because of his sensitivity and familiarity to his Hispanic, blue-collar constituents, Gene Green has held off challenges by some of the most well-known Hispanic politicians in Houston. He was unopposed in the 2012 Democratic primary.
He has been savvy about his dominant Hispanic constituency, holding "citizenship days," where his staff and other volunteers help immigrants fill out paperwork to become citizens.
The energy industry is key to Green's electorate and he has been active in biodiesel issues, supporting in 2010 the extension of a tax credit that he said allows the industry to remain competitive with conventional diesel and also preserves thousands of jobs in his district and across the nation.
Green introduced bills in 2009 that addressed severely disabled people waiting for Medicare approval, the shortage of mental health professionals and transparency in health care costs. He voted in favor of the 2010 health care reform bill.
Green has also worked on legislation to increase the supply of transplant organs and increased funding for juvenile diabetes research. He introduced the Medicare Full Access to Cancer Treatment Act to protect Medicare beneficiaries' access to new cancer treatments. After Hurricane Katrina, he filed a bill providing Medicare access to evacuees.
Green sent a letter in 2011 to Interior Department officials and others suggesting that NASA space shuttle employees, who were being laid off due to the end of the space shuttle program, had the knowledge and experience to be used as inspectors for offshore oil and gas facilities. He has consistently worked to protect jobs at the Johnson Space Center in Houston, which is located in his district.
Green voted against the 2008 $700 billion bailout package for the nation's financial system. In February 2009, he voted for President Barack Obama's economic stimulus package. Two months later, he voted for the Credit Card Holders' Bill of Rights, which creates new regulations for the credit card industry.
Green also worked with members of the Texas Congressional delegation to coordinate efforts to obtain federal funding for recovery efforts in the wake of Hurricane Ike, which made landfall near Galveston in 2008.
Green co-sponsored legislation in September 2008 that sought to increase domestic energy supplies through expanded offshore drilling as well as invest in renewable energy and conservation.
Like many members of Congress with a port in their district, Green opposed a 2006 deal that would have turned over security and management at several U.S. ports to a Dubai-based company.
He has supported cracking down on spam e-mails and, with Republican Rep. Chip Pickering, introduced legislation aimed at protecting local radio broadcasting and more strictly enforcing the licenses of satellite radio companies.
He has voted against trade promotion authority and for barring gays from the Boy Scouts. He also voted against the ban on what opponents call "partial birth" abortions and has supported increasing funding for education, especially in low-income areas.
Source: Associated Press