Geoffrey 'Geoff' C. Davis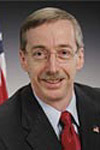 Birthdate: Oct. 26, 1958
Birth Place: Montreal, , Canada
Residence: Hebron, KY
Religion: Christian
Gender: Male

Candidacy
Education
Geoff Davis was born in Montreal, Ontario, and now lives in Hebron, Ky. He enlisted in the Army after high school and attended the U.S. Military Academy at West Point, N.Y., where he earned a bachelor's degree and was commissioned a second lieutenant in 1981.
Davis spent six years in the Army as a ranger and assault helicopter pilot with the 82nd Airborne Division. He left in 1987 with the rank of captain and began working in the aerospace and technology industries.
Davis moved to northern Kentucky in 1990 and founded Capstone Inc., a manufacturing and technology systems consulting business, in 1992.
He served eight years as a volunteer chaplain in the Kentucky prison system.
Davis was elected to the U.S. House in 2004. He had planned to retire at the end of 2012, but resigned his seat July 31, 2012, citing a family health issue.
He and his wife, Pat, have six children.
Profile
Geoff Davis, who has represented Kentucky in Congress since 2004, did not seek re-election in 2012.
He had announced he would retire at the end of 2012, but on July 31, 2012, he resigned his seat, citing a family health issue.
He endorsed Republican state Rep. Alecia Webb-Edgington as his replacement, but she lost in the May 2012 Republican primary to tea party candidate Thomas Massie.
Davis joined fellow Republicans in 2009 and 2010 in opposing the approximately $800 billion economic stimulus package, the health care reform bill and the overhaul of regulations governing the financial industry _ all initiatives backed by President Barack Obama.
Davis, a graduate of the U.S. Military Academy and a former Army helicopter pilot, made military issues a priority. Davis supported the Iraq war and said U.S. troops should stay to finish the job.
Davis is deputy whip of the Republican Conference and he co-chairs a working group on interagency reforms for national security. He has sponsored legislation to equalize disability retirement pay for military personnel wounded in action.
Davis favors tax cuts and opposes abortion and gun control. He calls for market-oriented approaches to improving health care and lowering costs. He opposed the 2008 $700 billion bailout of the financial industry.
Davis has a direct influence over tax policy as a member of the Ways and Means Committee. He previously served on the Armed Services and the Financial Services committees.
Davis' children have been home-schooled, but he said he is committed to public education and favors parental school choice.
Davis was forced to apologize in April 2008 to then-presidential candidate Barack Obama after saying at a GOP meeting, "That boy's finger doesn't need to be on the nuclear button."
The Obama campaign called the comment condescending, and it generated widespread attention for its potentially racist overtones.
"My poor choice of words is regrettable, and was in no way meant to impugn you or your integrity," he wrote in an apology to Obama.
Davis supported U.S. Sen. Jim Bunning of Kentucky at a time when the GOP was sending not-so-subtle hints that Bunning should retire rather than face re-election as a vulnerable incumbent. Bunning eventually decided against seeking re-election in the 2010 race.
Davis' election returned Kentucky's 4th District seat to Republican control after the incumbent, three-term Democratic Rep. Ken Lucas, retired to fulfill a term-limit pledge. Before Lucas' election, Republicans had controlled the northern Kentucky seat for 32 years.
Source: Associated Press