George Kenneth 'G.K.' Butterfield, Jr.
George Kenneth 'G.K.' Butterfield, Jr.
House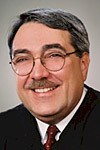 Birthdate: April 27, 1947
Birth Place: Wilson, NC, United States
Residence: Wilson, NC
Religion: Baptist
First Elected: 2004
Gender: Male

Candidacy
Party: Democratic
State: North Carolina
Office: House
District: District 1

Education
Undergraduate: North Carolina Central University
Degree: BA

Graduate: North Carolina Central University
Degree: JD

G.K. Butterfield was raised in Wilson, N.C., where he still resides. He earned a bachelor's degree and a law degree from North Carolina Central University and served two years in the Army.
Butterfield formed a Wilson law firm with three other attorneys before being elected in 1988 as a trial court judge.
Gov. Mike Easley appointed Butterfield to the state Supreme Court in 2001, but Butterfield lost an election for a full eight-year term. Easley again appointed him as a trial judge, but Butterfield resigned to run successfully in 2004 for the U.S. House seat vacated by Frank Ballance, who was under investigation for corruption and later went to prison.
Butterfield was elected to his first full term in November 2004.
He is a lifelong member of Jackson Chapel First Missionary Baptist Church in Wilson. He is divorced from state Rep. Jean Farmer-Butterfield and has two daughters.
Profile
G.K. Butterfield served as an adviser to then-Sen. Barack Obama during the 2008 presidential race and has been one of the president's staunchest supporters. Butterfield backed the 2010 health care reform bill, although he would have preferred a public option in the final bill.
Butterfield originally backed former North Carolina Sen. John Edwards in the 2008 Democratic presidential primary, but he switched his allegiance before Edwards dropped out of the race. Butterfield later campaigned for Obama in North Carolina.
Butterfield was involved in 2010 with finding a way to pay black farmers $1.25 billion to settle their discrimination complaints against the Department of Agriculture.
In 2011, when Sony's PlayStation Network suffered a data breach that potentially compromised credit card data, email addresses and other personal information from 77 million user accounts, Butterfield and Republican Rep. Mary Bono Mack initiated an inquiry into the breach. The legislators sent the chairman of Sony Computer Entertainment America, Kazuo Hirai, a letter asking when Sony discovered the breach and informed others, why it couldn't determine if credit card information was stolen, and what steps it was taking to address the crisis.
Butterfield voted in 2009 in favor of legislation to expand wilderness areas in nine states and add protections for more than 1,000 miles of rivers.
He voted in 2008 against the $14 billion rescue package for the auto industry and the $700 billion bailout of the financial industry.
Butterfield was named a member of the House Armed Services Committee during his freshman year. He represents a state with one of the country's largest military presences, and although he no longer sits on the committee, Butterfield spoke out strongly against the Navy's plans to build an aircraft landing field in his district near a wildlife refuge that is the winter home to tens of thousands of migratory birds.
A federal judge stopped the Navy from acquiring the land for the training field because it failed to properly study the environmental impacts of the project. The Navy is now considering sites outside the district.
Butterfield served three terms as chief deputy majority whip. He is the vice-chairman of the Congressional Black Caucus.
Source: Associated Press