Gloria Negrete McLeod
House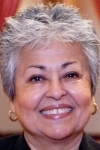 Birthdate: Sept. 6, 1941
Birth Place: Los Angeles, CA, United States
Residence: Chino, CA
Gender: Female

Candidacy
Party: Democratic
State: California
Office: House
District: District 35

Education
Undergraduate: Chaffey College
Degree: AA

Gloria Negrete McLeod was born in Los Angeles and now lives in Chino, Calif. She earned an associate degree from Chaffey College.
Prior to her election to the state Legislature, Negrete McLeod was a board member of Chaffey Community College and served as board president.
In 2000, she was elected to the state Assembly. In 2006, she was elected to the state Senate, where she has chaired the Public Employment and Retirement Committee. Her term in the legislature will expire in 2014.
Negrete McLeod and her husband, retired Los Angeles police Lt. Gilbert L. McLeod, have 10 children.
Profile
Gloria Negrete McLeod has served in the California Legislature for the past 12 years, first in the Assembly and then in the Senate since 2006.
She has chaired the state Senate committee on Public Employment and Retirement. She has supported efforts to prevent county workers from applying unused sick leave and vacation time to inflate retirement payouts and efforts to outlaw what is known as double dipping, when an employee retires but returns to a government job to collect both a pension and a paycheck.
Negrete McLeod has also pushed for the state to give domestic partners the same benefits as married spouses.
In other work, she carried a bill to give minor offenders work release credit for education, vocational and drug treatment programs.
Source: Associated Press