Grace Meng
House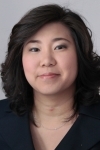 Birthdate: Oct. 1, 1975
Birth Place: Queens, NY, United States
Residence: Queens, NY
Religion: Christian
Gender: Female

Candidacy
Party: Democratic
State: New York
Office: House
District: District 6

Education
Undergraduate: University of Michigan
Degree: BA

Graduate: Yeshiva University
Degree: JD

Grace Meng was born and raised in Queens, N.Y., where she still resides. She received a bachelor's degree from the University of Michigan and a law degree from Yeshiva University.
Meng has represented the 22nd District in the New York State Assembly since her election in 2008.
She previously served as a public interest lawyer at Yoon & Kim LLP, focusing her efforts on filing hundreds of Violence Against Women Act petitions on behalf of her female clients.
Meng and her husband, Wayne Kye, have two sons.
Profile
Grace Meng won the Democratic primary for New York's 6th Congressional District in June 2012, garnering more than 50 percent of the vote in a competitive four-way race.
In the run-up to the primary, Meng received the backing of the Queens County Democratic Party, in addition to a last-minute endorsement from Gov. Andrew Cuomo.
The newly redrawn district, most of which is currently represented by retiring Rep. Gary Ackerman, is heavily Democratic.
Meng's campaign said she "is running for Congress to give a voice to the voiceless in her community." If elected, she would become the first Asian-American member of Congress from New York City, where the burgeoning number of Asian residents now constitutes nearly 13 percent of the population.
Meng's platform includes a four-point plan for increasing employment in Queens, a commitment to protecting Medicare and Social Security for senior citizens, and an emphasis on protecting women's rights around the world, her campaign said.
She also supports continuing strong relations with Israel and preventing Iran from developing nuclear weapons.
In 2008, Meng was elected to the New York State Assembly from the 22nd District, winning the seat formerly held by her father, Jimmy K. Meng, who was the state's first Asian-American assemblyman.
During her nearly four years in the Legislature, Meng opposed cutting pension benefits for public employees and supported higher income taxes for the state's wealthiest residents, according to her campaign.
In 2009, following the subprime mortgage crisis, Meng authored the Reverse Mortgage Act, which aimed to protect senior citizens from rising property taxes. Also that year, Gov. David Paterson signed into law Meng's bill that called for eliminating the term "Oriental" from state documents in reference to New Yorkers of Asian decent.
Source: Associated Press