Greg Walden
House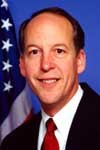 Birthdate: Jan. 10, 1957
Birth Place: The Dalles, OR, United States
Residence: Hood River, OR
Religion: Episcopalian
First Elected: 1998
Gender: Male

Candidacy
Party: Republican
State: Oregon
Office: House
District: District 2

Education
Undergraduate: University of Oregon
Degree: BA

Greg Walden was born in The Dalles, Ore., and now lives in nearby Hood River. He filled in on-air at the family radio station at age 15 and made radio a staple of his business career. He earned a bachelor's in journalism from the University of Oregon and now owns four radio stations.
He served for five years as press secretary and chief of staff for Republican U.S. Rep. Denny Smith of Oregon. He served in both chambers of the state Legislature, and then won election to the U.S. House in 1998.
Walden and his wife, Mylene, have a son.
Profile
Greg Walden's stock in the House of Representatives has risen precipitously since Republicans took over control of the chamber in 2010. Days after the election, new Speaker John Boehner chose Walden to lead the GOP transition team.
Even before the election, in February 2010, Walden was named GOP leadership chairman _ a position that had been vacant since 2005 and gives Walden a say in GOP strategy.
Walden jokes about being the "last man standing." He is now Oregon's lone GOP member of Congress and the most prominent Republican officeholder in the state.
Any hopes he had for statewide office had to wait when Democrats almost quadrupled in 2008 their voter registration edge over Republicans in Oregon. Those numbers helped Democrats score victories in suburban areas that traditionally had been viewed as Republican-leaning. Walden was often mentioned as a potential GOP candidate for governor in 2010, but he took a pass.
In July 2011, Walden drew attention to an effort by the National Guard to force some service members to repay their sign-on bonuses even though the payments were included in their contracts. The Guard said the enlistees never should have been offered bonuses, but Walden said it was "shameful" for the government not to live up its agreement. The Guard eventually backed down.
Walden has proven himself a steadfast defender of farming and logging interests in rural Oregon. With a district that includes 11 national forests, few issues are as important, he said.
In 2011 and 2012, Walden worked with Democratic Reps. Peter DeFazio and Kurt Schrader on a plan to increase logging in some areas while setting aside others for conservation. The plan was a compromise that tried to balance timber and environmental interests, but the trio was unable to get it through the House.
Walden is deputy chairman of the National Republican Congressional Committee, the campaign arm of the House GOP caucus, and he has formed a new political action committee in Oregon. He has said he will work to help elect more Republicans to office at all levels.
He worked to reimburse Klamath Basin farmers deprived of water in a controversial 2001 decision to help endangered fish. The water cutoff became a rallying cry for farmers nationwide.
Earlier in his congressional career, Walden worked along with Rep. Earl Blumenauer to preserve as wilderness areas thousands of acres on Oregon's Mount Hood. He also teamed with Rep. Brian Baird to sponsor a bill that would accelerate logging on forests that have been burned by wildfires, flooded or undergone other natural disasters.
Source: Associated Press