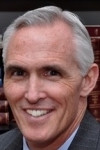 Birthdate: March 3, 1966
Birth Place: Vineland, NJ, United States
Residence: Haddonfield, NJ
Religion: Catholic
Gender: Male

Candidacy
Education
Greg Horton was born in Vineland, N.J., and resides in Haddonfield. He received bachelor's and master's degrees from Old Dominion University.
Horton has served 19 years in the local school system. He is currently the director of athletics and activities at Clearview Regional High School.
He is a past president of the Haddonfield Republican Club and a past vice president of the Haddonfield Civic Association.
Horton and his wife, Kimberly, have three children.
Profile
Greg Horton is challenging 11-term Democratic Rep. Rob Andrews in the November 2012 election for New Jersey's 1st Congressional District.
Horton previously ran for the state Assembly, and serves as the current Camden County GOP municipal committee co-chair for Haddonfield.
He is critical of 2012 Supreme Court decisions upholding the 2010 health care reform bill and striking down part of Arizona's immigration law.
Horton says the Democratic Party favors "an unaccountable and gargantuan government that will surely bankrupt America."
Horton criticized Andrews' opposition and protest to holding Attorney General Eric Holder in contempt for refusing to turn over materials related to the so-called Fast and Furious gun-running ring.
Horton describes himself as "a free market advocate" who "believes in honest common sense leadership with faith, family and honor being his foundation."
He also describes himself as an "American commoner" advocating term limits, campaign contribution limits, and flat taxes. He also has called for "freedom from a biased media" and wants tort reform.
Source: Associated Press