Gwendolynne 'Gwen' Sophia Moore
Gwendolynne 'Gwen' Sophia Moore
House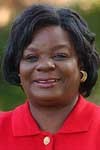 Birthdate: April 18, 1951
Birth Place: Racine, WI, United States
Residence: Milwaukee, WI
Religion: Christian
First Elected: 2004
Gender: Female

Candidacy
Party: Democratic
State: Wisconsin
Office: House
District: District 4

Education
Undergraduate: Marquette University
Degree: BA

Gwen Moore was born in Racine, Wis., and now lives in Milwaukee. She earned a bachelor's degree from Marquette University in 1978 and was certified in credit union management at Milwaukee Area Technical College in 1983.
Moore worked a series of government jobs and spearheaded an effort to establish a credit union in her neighborhood. She was elected to the state Assembly in 1988 and to the state Senate in 1992, representing portions of the city of Milwaukee.
She was elected to the U.S. House in 2004.
Moore has three children.
Profile
Gwen Moore entered politics to find solutions for her inner-city neighborhood. She was on welfare and about to give birth to her first child when she started at Marquette University.
A single mother of three, Moore in 2004 became Wisconsin's first black elected official to serve in Congress, and only the second woman. She beat out two other Democrats in the primary and was backed by Emily's List, a group that supports female Democratic candidates who support abortion rights.
Moore was unopposed in the August 2012 primary and will face Republican Dan Sebring and independent Robert Raymond in the November 2012 general election.
In 2012, she backed President Barack Obama's policy requiring religious schools and hospitals to provide contraceptive coverage for their employees.
She said on her website that the House vote in July 2012 holding Attorney General Eric Holder in contempt of Congress was "a politically motivated response to Holder's offices legal challenges to voter suppression laws." Holder was cited after he refused to turn over documents related to the Justice Department's bungled gun-tracking operation called Fast and Furious.
She is co-chair of the Congressional Caucus for Women's Issues. Her term is up in November 2012.
Moore voted for the 2009 approximately $800 billion economic stimulus package, the 2008 $17.4 billion rescue package for the nation's auto industry and the 2009 Lilly Ledbetter Fair Pay Act, which allows more leeway for women and others seeking justice over pay discrimination.
In 2009, Moore voted for legislation that would impose a 90 percent tax on millions of dollars in employee bonuses paid by American International Group and other companies bailed out by the government, but that was later changed to allow bailed-out companies to pay bonuses as long as the government determines the compensation is not "unreasonable or excessive."
In 2010, Moore voted to repeal the military's "don't ask, don't tell" policy preventing gays from serving openly. She voted against an almost $59 billion measure that included funds for a troop surge in Afghanistan.
Moore voted for the 2010 health care reform bill. She called the 2012 Supreme Court decision upholding the legislation a "victory for all Americans."
She voted for the 2010 overhaul of financial industry regulations, part of which gives the government new powers to break up companies that threaten the economy. She also supported legislation in 2010 to restore extended unemployment benefits to the long-term jobless.
Moore's son was among five Democratic presidential campaign operatives in Milwaukee charged with slashing the tires of vehicles rented by Republicans to take voters to the polls. She railed against the case, calling it revenge for her election, but her son pleaded no contest at the end of his trial in January 2006.
Source: Associated Press