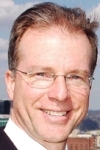 Birthdate: Sept. 17, 1960
Birth Place: Braddock, PA, United States
Residence: Forest Hills, PA
Religion: Christian
Gender: Male

Candidacy
Education
Hans Lessmann was born in Braddock, Penn., and currently resides in Forest Hills, a Pittsburgh suburb. He received a bachelor's of science degree from Purdue University and a doctor of optometry from the Pennsylvania College of Optometry.
He is an eye doctor who enjoys the outdoors, rowing and history. In 2003, he was named Pennsylvania Optometrist of the Year by the Pennsylvania Optometric Association.
He is president of the Society for the Education of Physicians and Patients.
Lessmann and his wife, Amy, have three children. Their middle child has Down syndrome, which Lessmann characterizes as both a blessing and a challenge that has taught him "the profound value of patience, acceptance, and letting go."
Profile
Hans Lessmann is challenging nine-term Rep. Mike Doyle in the 2012 race for Pennsylvania's 14th Congressional District seat. He faces an uphill battle in the heavily Democratic district, which includes Pittsburgh and its suburbs.
Lessmann's campaign platform revolves around jobs, energy and tax reform. He says the Pittsburgh area has been in a decline and he wants to create an environment where well-educated residents don't have to leave the area to find jobs.
He refers to the 2010 health care reform bill as "offensive and disrespectful to the Constitution." He says the middleman should be left out of health care and patients should be able to work directly with their doctors to determine the best type of care for them.
Lessmann is an advocate of school choice and small business.
He is campaigning using the slogan: "Less man more God, vote Lessmann. He advocates limited government, quoting Henry David Thoreau, "That which governs least governs best."
Source: Associated Press