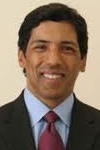 Birthdate: March 2, 1957
Birth Place: Detroit, MI, United States
Residence: Detroit, MI
Religion: Roman Catholic
Gender: Male

Candidacy
Education
Hansen Clarke was born and raised in Detroit. He earned a bachelor's degree in painting from Cornell University in 1984 and a law degree from Georgetown University in 1987.
Clarke was 8 years old when his father died. He struggled as a kid to survive on the streets of Detroit. As a young adult, he was cut off from food stamps "and was on my way out of life" until he turned things around and began a career in public service.
Clarke served as an associate executive and administrator in Wayne County government from 1993 to 1998. He was chief of staff to U.S. Rep. John Conyers from 1989 to 1990.
Clarke was elected to the state House in 1990, 1998 and 2000, and to the Michigan Senate in 2002 and 2006.
He was elected to the U.S. House in 2010.
He and his wife, Choi, live in Detroit.
Profile
Hansen Clarke was defeated in the August 2012 Democratic primary by fellow incumbent Rep. Gary Peters in Michigan's redrawn 14th Congressional District, which runs from Detroit into Oakland County. Clarke and Peters were forced to run in the same district after Michigan lost a congressional seat due to population loss.
Clarke's defeat means that for the first time since 1965 the Detroit area will not be represented by two black members of Congress. Clarke's mother was black and his father was of South Asian origin.
Clarke was a supporter of the 2010 health care reform bill. He applauded the June 2012 decision by the Supreme Court upholding the legislation. "The core principle of President Obama's health care reform, which the Supreme Court upheld today, is simple: the more people with health insurance, the lower the cost of care," he said. "Today's ruling is a win for fiscal responsibility and a win for people seeking care."
In August 2012, Clarke spearheaded a group of 11 Democratic congressmen who sent a letter urging a nonpartisan government watchdog to audit the U.S. Border Patrol's activities on the northern border. They asked the U.S. Government Accountability Office to investigate if Border Patrol agents were violating civil rights, undermining immigrant communities and adversely affecting public safety. Immigrant rights groups said the letter was prompted by reports of agents targeting individuals based on appearances on the northern border.
Joining other fellow Michigan congressional Democrats, Clarke in January 2012 backed the construction of a second bridge linking Detroit to Windsor, Ontario, in Canada. The project, which was also supported by Republican Gov. Rick Snyder, would provide the state with what they described as 10,000 "desperately needed" construction jobs associated with the project and $2 billion in federal matching highway funds. The bridge would compete with the privately owned Ambassador Bridge.
In the 2010 Democratic primary, Clarke defeated seven-term U.S. Rep. Carolyn Cheeks Kilpatrick on the way to winning the general election.
He got his first taste for politics at Cornell University, where he beat Ann Coulter _ who went on to become a national conservative commentator _ in a race for student trustee.
As a state legislator, Clarke pushed for a moratorium on mortgage foreclosures in Michigan and stronger consumer protections for those who faced foreclosure. He also introduced bills that called for tougher penalties against hate crimes or bias-motivated crimes.
Source: Associated Press