Harold 'Hal' Rogers
House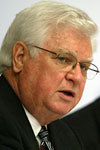 Birthdate: Dec. 31, 1937
Birth Place: Barrier, KY, United States
Residence: Somerset, KY
Religion: Baptist
First Elected: 1980
Gender: Male

Candidacy
Party: Republican
State: Kentucky
Office: House
District: District 5

Education
Undergraduate: University of Kentucky
Degree: BA

Graduate: University of Kentucky
Degree: JD

Hal Rogers was born in Barrier, Ky. He went into radio as a local reporter and announcer and remained in broadcasting while attending the University of Kentucky, where he earned a bachelor's in 1962 and a law degree in 1964.
Rogers was elected the commonwealth's attorney chief prosecutor for Pulaski and Rockcastle counties in 1968. He held that office until winning election to Congress in 1980.
Rogers had three children with his late wife, Shirley, who died of cancer in 1995. He remarried in 1999 and he and his wife, Cynthia, now live in Somerset.
Profile
As chairman of the House Appropriations Committee, Hal Rogers has overseen efforts by GOP congressmen to rein in federal spending.
Throughout 2011 and 2012, Rogers has shown his pragmatic side in supporting legislation setting agency budgets. These measures have sought to provide funding in line with a budget deal with President Barack Obama affecting a range of federal agencies and programs.
"We are committed to working together across the aisle and across both chambers to ensure continued funding for important government programs, projects, and services that the American people expect and deserve," Rogers said in April 2012.
Rogers has opposed key measures pushed by President Obama, including the 2010 health care reform bill and a 2010 bill overhauling financial industry regulations. He also voted against the 2009 approximately $814 billion economic stimulus plan backed by Obama.
First elected to Congress in 1980, Rogers is the longest serving Kentucky Republican ever elected to federal office. With buildings, streets and a major highway named in his honor, he is considered to have one of the safest seats in Congress.
He faces Democrat Kenneth Stepp in the 2012 general election.
Rogers has used his seat on the Appropriations Committee to protect one of his district's most important economic engines _ Lake Cumberland. The massive U.S. Corps of Engineers impoundment draws tourists from across the country and spawned a houseboat manufacturing industry. Rogers led the charge to get congressional appropriations to fix the lake's Wolf Creek Dam, which had been determined weakened.
Rogers considered a run for governor in 2003, but ultimately decided his influence in Congress was too great to give up. His name came up as a possible gubernatorial candidate again in 2007.
Rogers has become an influential player on homeland security issues, but his clout wasn't enough to win approval in 2007 for a $450 million government research laboratory near his hometown.
The 5th District, which encompasses most of the state's eastern coalfields, is an area of historically high unemployment and low educational attainment. Rogers has worked to keep federal funds flowing into the region for flood-control projects, highway construction and economic development.
He helped launch Personal Responsibility In a Desirable Environment, an ambitious, federally funded cleanup program where volunteers from every county in the 5th District clean up illegal roadside dumps. The program also pays for installation of septic tanks and sewer line extensions into communities where many residents flush commodes directly into streams through so-called straight pipes.
Through PRIDE, federal funds are used to provide grants or low-interest loans to poor residents to pay for septic systems. Rogers also started Unlawful Narcotics Investigations, Treatment and Education _ a federally funded, anti-drug program _ after he learned about widespread prescription drug abuse. Rogers secured funding for a staff of drug detectives to crack down on black-market drugs and developed an extensive network of faith-based groups to help in the fight against drug abuse.
Source: Associated Press