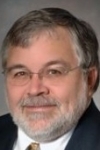 Birthdate: Oct. 11, 1951
Birth Place: Corpus Christi, TX, United States
Residence: York Township, PA
Religion: Methodist
Gender: Male

Education
Harry Perkinson was born in Corpus Christi, Texas. His father was in the Navy and his mother was a registered nurse. He currently resides in York Township, Pa. Perkinson received bachelor's degrees from Duke University and North Carolina State University. He also received a master's degree in mechanical engineering from Drexel University and a master's in business administration from Pennsylvania State University.
Perkinson was a Peace Corps volunteer in Quito and Santo Domingo de los Colorados, Ecuador.
He founded his own York County firm, Integrated Composite Technologies, and now works as an engineering manager for a small research-and-development firm that holds contracts with the U.S. Defense Department.
Perkinson and his wife, Angela, have two daughters.
Profile
Harry Perkinson is a political newcomer who won a two-candidate Democratic primary in Pennsylvania's 4th Congressional District in April 2012. In the November 2012 general election, he will face state Rep. Scott Perry for the seat being vacated by Republican U.S. Rep. Todd Platts.
Platts was elected in 2000 on a platform that included a pledge to push for term limits. He is retiring at the end of the year, fulfilling his promise to hold office for no more than six terms.
Platts' retirement leaves a void in what has been a strongly Republican district in eastern Pennsylvania.
Perkinson similarly has pledged to serve no more than six terms, if elected, but he and his Republican challenger disagree on most major issues.
Perkinson favors the 2010 health care reform bill championed by President Barack Obama, whereas Perry has vowed to vote to repeal it, if elected.
Perkinson opposes a balanced budget amendment.
He considers himself pro-choice, believing that outlawing abortions will not stop abortions from being performed but only make them more dangerous for women. He says the number of abortions can be reduced with increased birth control information and access.
To make the United States energy independent, he supports conservation and investment in alternatives _ such as wind power.
Perkinson is making his first try for elective office. He defeated Ken Lee, 56 percent to 44 percent, in the 2012 Democratic primary for the 4th District seat. Lee, a more liberal-leaning candidate was endorsed by former U.S. Rep Joe Sestak.
Perry has outspent Perkinson by nearly 9-to-1 during the current campaign, according to federal campaign finance reports through July 15.