Henry Roberto Cuellar
House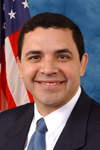 Birthdate: Sept. 19, 1955
Birth Place: Laredo, TX, United States
Residence: Laredo, TX
Religion: Catholic
First Elected: 2004
Gender: Male

Candidacy
Party: Democratic
State: Texas
Office: House
District: District 28

Education
Undergraduate: Georgetown University
Degree: BSFS

Graduate: Laredo State University
Degree: MBA

Graduate: University of Texas
Degree: JD

Graduate: University of Texas
Degree: PhD

Henry Cuellar was born and raised in the Texas border city of Laredo, where he currently lives. He earned a bachelor's degree at Georgetown University in 1978, a law degree from the University of Texas School of Law in 1981 and a master's in business administration from Laredo State University in 1982. He also earned a doctorate in government from the University of Texas in 1998.
Cuellar worked as a lawyer and as a customs broker and represented Laredo in the Texas House from 1986 to 2000. He served on the powerful Appropriations Committee and was vice chairman of the Higher Education Committee.
He was appointed Texas Secretary of State in January 2001 by Republican Gov. Rick Perry. Cuellar resigned that position nine months later, saying he was considering a run for elected office.
He formerly taught at Texas A&M International University in Laredo.
Cuellar was elected to the U.S. House in 2004.
He and his wife, Imelda, have two daughters.
Profile
Henry Cuellar is a member of the fiscally conservative "Blue Dog" Democrats, the only Texan in the caucus. He faces no opponent in the November 2012 general election.
As violence along the U.S.-Mexico border has gotten more attention, Cuellar has been among the border lawmakers pushing for more security funding.
He urged in early 2010 for more money to upgrade communications capabilities for border law enforcement, while saying Customs and Border Protection should be supported in order to continue the flow of trade at the nation's land ports. Laredo is the nation's busiest inland port.
Cuellar included a measure in a $5.7 billion national service bill _ signed by President Barack Obama in April 2009 _ that would bring volunteers to poor communities along the U.S.-Mexico border that often lack basic services such as running water and sewer systems. Improving life in these communities, which are known as colonias, has been a longtime issue for Cuellar.
Cuellar voted for the 2010 health care reform bill pushed by President Obama, calling it a "pivotal moment for our country."
During his time as a prominent Democrat in the Texas House, Cuellar supported Republican George W. Bush in his run for the presidency. After Cueller's appointment as Texas Secretary of State in 2001, he faced some pressure to change his party affiliation, but he refused.
Cuellar didn't have a Democratic challenger in 2008, two years after withstanding a 2006 primary challenge from rival then-Rep. Ciro Rodriguez. Cuellar wrested the 28th District seat from Rodriguez in a narrow victory in 2004.
President George W. Bush affectionately greeted Cuellar before the 2006 State of the Union address by pinching Cuellar's face, causing some Democrats to argue that he was too close to the GOP.
Source: Associated Press