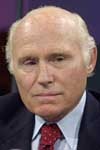 Birthdate: Feb. 7, 1935
Birth Place: Milwaukee, WI, United States
Residence: Milwaukee, WI
Religion: Judaism
Gender: Male

Candidacy
Education
Herb Kohl was born in Milwaukee, where he now resides. He earned a bachelor's in 1956 from the University of Wisconsin and a master's in business administration in 1958 from Harvard University.
Kohl helped build his family-owned business, Kohl's grocery and department stores, serving as president from 1970 until the sale of the corporation in 1979. He served as chairman of the Democratic Party of Wisconsin from 1975 to 1977.
In 1985, Kohl bought the Milwaukee Bucks to ensure the basketball team remained in Milwaukee.
He was elected to the U.S. Senate in 1988, and re-elected in 1994, 2000 and 2006. He announced on May 13, 2011, that he would not seek re-election in 2012.
He is single.
Profile
Herb Kohl announced on May 13, 2011, that he would not seek re-election in 2012 after four terms as U.S. senator from Wisconsin. Despite his age, which was 76 at the time, the move surprised both parties and immediately was seen as putting the seat in play for the 2012 election.
Kohl was urged by some in his party to run against Wisconsin Gov. Scott Walker in his 2012 recall election, but he resisted and ultimately endorsed Milwaukee Mayor Tom Barrett before the Democratic primary.
The soft-spoken multimillionaire retained his U.S. Senate seat in part through the use of his personal wealth and his refusal to accept funding from special interests. He won re-election repeatedly by comfortable margins.
Kohl never accepted donations from advocacy organizations, saying the donations have "perverted the process." His wealth in 2010 was estimated at more than $210 million. He personally spent about $19 million in total on his re-election bids in 1994, 2000 and 2006.
Kohl is moderate in both temperament and ideology. He supported the 2010 Affordable Care Act, which opponents dubbed Obamacare, and the 2009 approximately $800 billion economic stimulus plan backed by President Barack Obama. He urged the Obama administration to do "everything in its power" to retrieve performance bonuses that American International Group paid some of its executives after the company received more than $170 billion in federal aid to keep it from foundering.
Kohl is chairman of the Senate Special Committee on Aging. He is a member of the Judiciary subcommittee on antitrust issues and the Appropriations subcommittee on agriculture, which controls the budgets of the Agriculture Department and the Food and Drug Administration.
Kohl is also a member of the Banking, Housing and Urban Affairs Committee and vowed to give financial system regulators more oversight and enforcement authority following the economic meltdown in 2008 that saw large banks receiving federal bailouts in order to avoid collapse.
A Kohl-sponsored bill that passed in 2010 granted an exception to families who wanted to mail cigarettes and other tobacco products to military members serving overseas. The bill was in response to an earlier act designed to prevent minors from ordering cigarettes through the mail. Kohl said his bill helped military families while honoring the intent of the original measure.
Kohl generally votes along party lines. He voted in 2010 for legislation overhauling regulations of the financial industry and a bill extending unemployment benefits.
He has supported the right to carry loaded guns in national parks and wildlife refuges. He voted in 2009 for the so-called Cash for Clunkers program and has favored allowing Americans to import low-cost prescription drugs from abroad.
One of Kohl's home-state industries is Harley-Davidson, and he was one of four senators who successfully lobbied to include motorcycles on the list of consumer purchases eligible for federal tax breaks as part of the 2009 economic stimulus plan.
He has pushed legislation that would require drug and device makers to disclose anything of value given to physicians, such as payments, gifts or travel. He's also sponsored a bill that would ban most settlements known as "reverse payments," in which a brand-name drug maker pays a generic manufacturer to delay the introduction of the generic drug. However, the bill has languished in the face of intense drug-company lobbying.
Kohl made dairy policy one of his top priorities in the Senate. He helped defeat the renewal of the Northeast Dairy Compact, a program that Midwestern dairy farmers opposed because it allowed New England states to set higher prices. Kohl supported a replacement program, the Milk Income Loss Contract, which pays dairy farmers cash when prices fall below a certain level. Wisconsin dairy farmers have been the biggest beneficiaries of the program.
Kohl voted for President George W. Bush's 2001 tax cuts but opposed the 2003 tax cuts. He also voted to authorize the Iraq war resolution in 2002.
On the Senate Judiciary Committee, Kohl was one of just three Democrats to vote to confirm John Roberts as chief justice of the Supreme Court. He voted against the Supreme Court nomination of Samuel Alito and in favor of the nominations of Elena Kagan and Sonia Sotomayor.
Kohl is relatively low-key compared to other senators and likes to say he's quiet but effective in doing his job. Media attention on him often focuses on his plans for the Milwaukee Bucks, the National Basketball Association team he owns.
Only months after his 1994 re-election, Kohl donated $25 million toward the construction of a new $70 million sports arena at the University of Wisconsin, his alma mater.
Source: Associated Press