Howard 'Buck' Philip McKeon
Howard 'Buck' Philip McKeon
House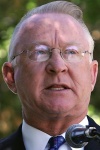 Birthdate: Sept. 9, 1938
Birth Place: Tujunga, CA, United States
Residence: Santa Clarita, CA
Religion: Mormon
First Elected: 1992
Gender: Male

Candidacy
Party: Republican
State: California
Office: House
District: District 25

Education
Undergraduate: Brigham Young University
Degree: BA

Buck McKeon was born and raised in Tujunga, Calif., and now lives in Santa Clarita. He served a two-year mission for the Church of Jesus Christ of Latter-day Saints before attending Brigham Young University.
He embarked during college on what he called a "temporary hiatus." He got married, raised a family and went into business in Santa Clarita. He earned his bachelor's in animal husbandry in 1985 from BYU.
McKeon and his four brothers ran a clothing business their parents started with a single store. It became a chain of 46 outlets in California, Arizona and Nevada.
He founded Valencia National Bank in 1987, the same year he ran for mayor of Santa Clarita. He was elected to the U.S. House in 1992.
McKeon and his wife, Patricia, have six children.
Profile
Buck McKeon is a reliable conservative voice within the California congressional delegation. He has spent his House terms fighting for increased access to education and for the large defense industry located in California's 25th District, which spans 21,000 square miles and is home to Edwards Air Force Base.
McKeon has become a harsh critic of President Barack Obama's administration and a frequent op-ed writer on immigration. He supported Arizona legislation passed in 2010 that allows law enforcement officials to stop anyone who might be suspected of being an undocumented immigrant.
McKeon has consistently advocated for preserving Social Security, cutting the national debt, providing tax cuts for working families and strengthening the military. He worked on a subcommittee that helped reduce interest rates for loans and increase the size of Pell Grants for low-income students.
His steadfast support of the military led him to break with many of his fellow Republicans in 2012, when he said he would consider supporting a tax hike if the money would be used to restore cuts in military spending.
Although once a harsh opponent of allowing openly gay people to serve in the military, McKeon said in 2012 that he would no longer oppose their service, saying simply, "We fought that fight."
In 2006 and 2007 McKeon was chairman of the House Education and the Workforce Committee. As chairman, he pushed to keep college tuition under control and to demand universities invite dissenting opinions to campus.
"Colleges and universities must remain accountable to the consumers of higher education," he said at the time.
He remains a member of the committee, now chaired by fellow Republican Rep. John Kline of Minnesota, and in 2008 he sponsored legislation with Democratic Rep. George Miller that gave the Education Department temporary authority to buy loans from student lenders to ensure their access to capital. He also worked to pass in 2008 the bipartisan-backed Higher Education Opportunity Act, which streamlined the federal student financial aid application process, simplified the student aid system and cut student loan interest rates.
He sponsored legislation that led defense contractor Northrop Grumman to build part of the F-35 Joint Strike Fighter in Palmdale. He won legislative approval for new rocket test stands, improved base housing and health facilities at Edwards Air Force Base.
McKeon has worked across party lines on environmental issues, sponsoring a bill in 2008 with Democratic Sen. Barbara Boxer that would protect nearly 475,000 acres of wilderness in California's Eastern Sierra and San Gabriel Mountains and nearly 52 miles of rivers, mostly along the Amargosa and Owens Rivers in Death Valley.
McKeon championed in 2008 the Republican-backed American Energy Act, which would open up offshore domestic oil drilling and promote renewable energy in an effort to lower gas prices.
"I believe we have unveiled an energy plan that offers meaningful solutions for American families to increase the supply of American energy, improve energy efficiency, and encourage investment in alternative and renewable energy technologies," McKeon says on his website.
Source: Associated Press