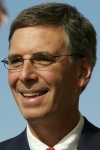 Birthdate: Aug. 4, 1957
Birth Place: Charleston, SC, United States
Residence: Myrtle Beach, SC
Religion: Episcopalian
Gender: Male

Education
Graduate: University of South Carolina
Degree: MA

Graduate: University of South Carolina
Degree: JD

Tom Rice was born in Charleston, S.C., raised in Horry County and now lives in Myrtle Beach. He attended the University of South Carolina where he earned a master's degree in accounting and a law degree.
Rice worked for the prominent accounting firm of Deloitte and Touche in Charlotte and later returned to the Myrtle Beach area. He established his own law firm in 1997. He practices tax law with the firm of Rice, McDonald & Hicks.
He has served on numerous civic and government boards and, since 2006, has been listed in Best Lawyers in America. He was elected chairman of the Horry County Council in 2010. His hobbies include fishing, hunting and golfing.
Rice and his wife, Wrenzie, have three grown sons.
Profile
Tom Rice, after serving on numerous government and civic boards, was elected chairman of the Horry County Council in 2010. He got into the race after his wife told him that if he was going to keep complaining about government, then the least he could do is run for office and change things.
As chairman, Rice stressed bringing in jobs to the area and worked with council members and community leaders to rebuild the Myrtle Beach Regional Economic Development Corporation to attract new, higher paying jobs to the area which is the heart of the state's $15 billion tourism industry.
Rice finished second with 27 percent of the vote in the nine-way 2012 GOP primary in South Carolina's 7th Congressional District _ a new seat created in the northeastern corner of the state as a result of population growth reflected in the 2010 census.
The primary field included former South Carolina Lt. Gov. Andre Bauer and Chad Prosser, the former head of the state's Department of Parks, Recreation and Tourism. Bauer finished first, but Prosser, who finished fourth, later endorsed Rice in the runoff. Third-place finisher Jay Jordan didn't endorse either candidate. In the runoff two weeks later, Rice trounced Bauer with 56 percent of the vote.