Jaime Lynn Herrera Beutler
Jaime Lynn Herrera Beutler
House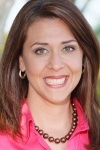 Birthdate: Nov. 3, 1978
Birth Place: Glendale, CA, United States
Residence: Camas, WA
Religion: Christian
First Elected: 2010
Gender: Female

Candidacy
Party: Republican
State: Washington
Office: House
District: District 3

Education
Undergraduate: University of Washington
Degree: BA

Jaime Herrera Beutler was born in Glendale, Calif., and raised in southwest Washington. Herrera Beutler earned a bachelor's degree from the University of Washington. She was a senior legislative aide for Republican U.S. Rep. Cathy McMorris Rodgers from 2005 to 2007.
Herrera Beutler was appointed to the Washington state Legislature in 2007 to replace former Rep. Richard Curtis, who resigned amid a sex scandal. She was easily re-elected in 2008.
She was elected to Congress in 2010, beating Democrat Denny Heck to represent Washington's 3rd Congressional District.
Herrera and her husband, Daniel, live in Camas.
Profile
Jaime Herrera Beutler was elected to Congress in 2010, winning her first Congressional campaign at age 31.
Now 33, she is the youngest woman currently serving in Congress, and she's the first Hispanic elected by the state to serve in the U.S. House.
Early in her first term, Beutler gained a bit of media attention amid a GOP push in Congress for $61 billion in spending cuts. In March 2011, she called on senators to confront President Barack Obama on his threat to veto the measure, saying they should "step up" and follow the House to rein in federal spending. She blamed Obama for not offering a long-term spending plan, and she blamed an "army of lobbyists" in Washington for blocking efforts to address the country's debt. She said gridlock on the issue is preventing job creation.
Her political career started as a senior legislative aide for Republican U.S. Rep. Cathy McMorris Rodgers from 2005 to 2007. She was appointed to the state Legislature in 2007 after a sex scandal forced her predecessor to resign. Beutler was easily re-elected the following year.
She jumped into the U.S. House race within days of Democratic U.S. Rep. Brian Baird's announcement that he would not seek re-election, and quickly won support from several Republican heavyweights, including her former boss, McMorris Rodgers, and former U.S. Sen. Slade Gorton. She beat Democrat Denny Heck with 53 percent of the vote.
Her campaign stressed the need to improve the economy for the region, which currently has an unemployment rate ranging from 9.1 to 12.4 percent. Since she was elected, the 3rd Congressional District changed slightly under redistricting, and the district is considered more conservative now.
Beutler was the only Republican on the primary ballot and advanced through the top two primary with nearly 57 percent of the vote. Democrat Jon T. Haugen also advanced with nearly 38 percent of the vote, but he did not win the endorsement of the state Democratic Party.
Beutler says her top focus remains improving the economy in the region. Early in 2012, she introduced the small business opportunities act, which would streamline the process for small businesses to compete for contracts with the federal government.
She voted with Republicans to repeal the 2010 health care reform bill, and she believes all tax cuts should be extended. On Medicare, she voted for both of the House budgets, including the one proposed by Paul Ryan in 2012.
Source: Associated Press