James 'Jim' David Matheson
James 'Jim' David Matheson
House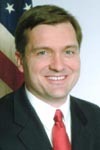 Birthdate: March 21, 1960
Birth Place: Salt Lake City, UT, United States
Residence: Salt Lake City, UT
Religion: Mormon
First Elected: 2000
Gender: Male

Candidacy
Party: Democratic
State: Utah
Office: House
District: District 4

Education
Undergraduate: Harvard University
Degree: BA

Graduate: University of California - Los Angeles
Degree: MBA

Jim Matheson was born in Salt Lake City, where he currently resides. He earned a bachelor's degree from Harvard University in 1982 and a master's degree from the University of California-Los Angeles in 1987. As a student, he interned for U.S. House Speaker Tip O'Neill.
Matheson is a former energy consultant to large energy users. He folded his consulting business, the Matheson Group, at the end of 1999 so he could focus on his first campaign.
He was elected to the U.S. House in 2000. He was courted by party leaders in 2009 to run for governor or U.S. Senate, but declined.
Matheson and his wife, Amy, have two sons.
Profile
Jim Matheson has made nuclear issues a hallmark of his time in Congress.
In February 2011, he sponsored a bill that would ban the importation of foreign low-level radioactive waste. The bill was in response to Salt Lake City-based EnergySolutions' application to import up to 20,000 tons of waste from Italy's shuttered nuclear power program.
The state of Utah objected to allowing the waste in, but the company challenged its authority to do so in federal court. The company withdrew its license application, but Matheson contends his bill is still necessary. He says no other country in the world accepts another's nuclear waste and that the United States needs a uniform policy to keep it out.
Matheson has expressed support for legislation that would create a blue-ribbon commission to study nuclear waste disposal alternatives in the wake of President Barack Obama's 2011 announcement that he would suspend funding for Nevada's Yucca Mountain disposal site.
Since taking office, Matheson had solidified his support in the overwhelmingly Republican 2nd Congressional District, which sprawls from Salt Lake City to Utah's southwest corner. However, after redistricting in 2011, Matheson jumped to Utah's 4th Congressional District. He received the Democratic Party's nomination without a challenge, but is again targeted by national Republican groups.
He joined the fiscally conservative Blue Dog Coalition, voted with President George W. Bush more often than not and embraced slivers of conservative social programs important to his constituents. However, his voting along with Republicans has caused a backlash among some fellow Democrats.
In 2010, Matheson faced his first-ever primary opponent, in part because of his vote against the 2010 health care reform bill. Former teacher Claudia Wright staked out more liberal positions than Matheson. While some Democratic voters said they would have preferred Wright, many still voted for Matheson because they thought he was the only one who could win in his district. He won the primary with 68 percent of the vote.
Matheson was one of five House Democrats who voted in July 2012 to repeal the health care law. The vote came less than a month after the law was upheld by the U.S. Supreme Court.
In the 2012 general election, he faces Saratoga Springs Mayor Mia Love, who scored a coveted speaking slot at the 2012 Republican National Convention and is receiving strong support from national GOP leaders, including endorsements from Ann Romney and former Secretary of State Condoleezza Rice.
Matheson declined an invitation to attend the 2012 Democratic National Convention.
Matheson has consistently opposed giving members of Congress cost-of-living pay increases.
He has criticized President Bush's No Child Left Behind education initiative, calling it too rigid. He says he supports school and teacher accountability but opposes public school vouchers.
Source: Associated Press