James 'Jim' Hayes Shofner Cooper
James 'Jim' Hayes Shofner Cooper
House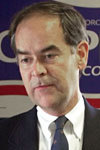 Birthdate: June 19, 1954
Birth Place: Shelbyville, TN, United States
Residence: Nashville, TN
Religion: Episcopal
First Elected: 2002
Gender: Male

Candidacy
Party: Democratic
State: Tennessee
Office: House
District: District 5

Education
Undergraduate: University of North Carolina
Degree: BA

Graduate: Oxford University
Degree: MA

Graduate: Harvard University
Degree: JD

Jim Cooper was raised in Shelbyville, Tenn., and now lives in Nashville. He is the son of former Gov. Prentice Cooper. He earned a bachelor's in history and economics at the University of North Carolina, a master's in politics and economics at Oxford University and a law degree at Harvard University.
Cooper served a dozen years in the U.S. House representing Tennessee's 4th District until he made an unsuccessful bid for the Senate in 1994, losing to Republican Fred Thompson. He returned to the House in 2002 and now represents the 5th District.
Cooper and his wife, Martha, have three children.
Profile
Jim Cooper's election to Congress in 2002 after an eight-year absence meant a return to the familiar for the Nashville Democrat. His prior experience in Washington _ he defeated the daughter of Senate Majority Leader Howard Baker to become a congressman representing the 4th Congressional District in 1982 _ helped him gain seats on important committees and push his key issues.
Cooper said in early 2009 he supported President Barack Obama's troop shift to Afghanistan. After the 2008 election, Cooper called for Obama to retain Robert Gates as defense secretary and he has supported Gates' reform efforts.
Cooper said the 2009 approximately $800 billion economic stimulus package was an imperative. He voted against the original House version because he said Congress moved too far away from the president's original proposal by inserting too many pet projects. He voted for the final version, saying that while it wasn't perfect it was much closer to Obama's goal.
He voted for the 2010 health care reform bill backed by Obama.
Cooper has joined a growing number of fiscally conservative Democrats who are calling for budget changes and restrictions on congressional earmarks. He also has said the United States is unprepared for computerized security threats.
He was the ranking minority member on a congressional committee that held hearings about mismanagement at Arlington National Cemetery that led to more than 200 improperly identified graves. Cooper said in 2011 that veterans' groups persuaded him that the cemetery should be managed by the Department of Veterans' Affairs. "This is a scandal that never should have happened," Cooper said in September 2011. "The Army is always going to be distracted by more important duties."
Cooper has often reached out across the aisle to support issues important to Tennesseans. He teamed up with former Senate Majority Leader Bill Frist to introduce legislation to expand the current Tennessee Valley Authority board and make members part-time directors. In 2011, he and Tennessee Republican Rep. Marsha Blackburn cooperated on legislation aimed at protecting owners of musical instruments and other products made from imported wood from prosecution under a law that led to raids on Gibson Guitar Corp.
Cooper has seen the Democrats slip from majority party to distinct minority in Tennessee. He cited his own difficulties in getting a photo ID for his elderly mother during a joint appearance with U.S. Sen. Dick Durbin to question Tennessee's voter identification laws.
"This is a minefield for the uninitiated," Cooper said in September 2011. "And you shouldn't have to go through all this red tape to vote."
While redistricting was under way in early 2012 he publicly called on Republicans not to divide Nashville between two congressional districts. His 5th Congressional District lines ended up changing only slightly.
Source: Associated Press