James 'Jim' Henry Webb, Jr.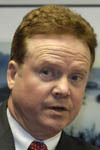 Birthdate: Feb. 9, 1946
Birth Place: St. Joseph, MO, United States
Residence: Falls Church, VA
Religion: Protestant
Gender: Male

Candidacy
Education
Jim Webb was born in St. Joseph, Mo., and lives in Falls Church, Va. He attended the University of Southern California but graduated from the U.S. Naval Academy in 1968. He completed training at the Marine Corps Officer's School at Quantico, Va., and earned his law degree from Georgetown University Law School in 1975.
Webb was a U.S. Marine rifle company commander at An Hua Basin in Vietnam in 1969. He later served as instructor in weapons and tactics at Marine Corps Officer Candidates School and left the Marine Corps in 1972.
Webb served as assistant secretary of defense from 1984 to 1987, and as secretary of the Navy from 1987 to 1988. He also has written six best-selling, military-suspense novels and a nonfiction book.
Webb was first elected to the U.S. Senate in 2006. In early 2011, he announced that he would not run for re-election in 2012, touching off a scramble within Virginia's Democratic Party for a candidate to hold his seat.
He has four children by previous marriages. He and his wife, Hong Le, had their first child together in 2006.
Profile
Jim Webb has gone through public life beholden to none and never staying long.
He was Secretary of the Navy under President Ronald Reagan, but resigned abruptly after reported clashes with Defense Secretary Frank Carlucci.
He emerged from a private life as a successful author, journalist and novelist to make a statement against what he saw as misadventures in Iraq and socioeconomic unfairness against the middle class at home under President George W. Bush and the Republicans. He proclaimed himself a Democrat and challenged Sen. George Allen in 2006 in his first bid for elected office.
Against all odds and with help from a gaffe-strewn campaign by Allen and deep voter anger toward the GOP, Webb won by 9,329 votes out of nearly 2.4 million cast.
Then, barely four years into his term, Webb announced in early 2011 that he would not seek re-election, saying only that it was time to do something else but not saying what.
That sent a shock through a Democratic Party in Virginia that had just been abused in the 2010 midterm elections, losing three U.S. House seats to the Republicans. The party scrambled to find a candidate who could hold the seat for the party in the 2012 election _ an election that likely could determine whether the Democrats can retain their narrow Senate majority. The almost instant consensus was former Gov. Tim Kaine, then two years into his role as chairman of the Democratic National Committee.
Webb, a blunt-speaking former Republican, was never an easy fit for the Democrats. In July 2010 he unsettled and angered his party with an article he wrote for the Wall Street Journal in which he said that government-backed affirmative action programs had grown so far beyond their original intent of aiding black people that they now impede struggling whites and hurt the cause of racial harmony.
Webb said the programs, initially put in place to erase the stain of slavery and Jim Crow discrimination against black people, now primarily benefit recent immigrants who suffered no such bias at the hands of the U.S. government.
Such programs should end, Webb concluded, except for "our continuing obligation to assist those African-Americans still in need."
The column drew scathing comments from minority leaders. Webb said through a spokesman that what he had written spoke for itself.
As the most decorated Marine veteran of the Vietnam War, Webb can be gregarious one moment and flash a defiant, steely glare the next. At age 66, he still has the bearing and powerful, compact build of a Marine who could still whip adversaries half his age.
His causes in the Senate have been chiefly those of his choosing.
He made reforming the nation's prison system a top priority for 2009, saying drug rehabilitation or mental health treatment would be better alternatives for many inmates serving time for nonviolent crimes. He proposed legislation to create a blue-ribbon commission charged with conducting an 18-month, top-to-bottom review of the criminal justice system.
Along with Republican Sen. John McCain, the GOP's 2008 presidential nominee, Webb became the Senate's most powerful advocate for veterans' issues. He was the author of the revised and modernized GI Bill of Rights, and battled efforts to gut aid to the Veterans Administration's hospitals.
He also was critical in Virginia's efforts to prevent a carrier group from being moved from the Norfolk Naval Base to a new port in Florida.
Webb had barely moved into his Senate office in January of 2007 when Democrats chose him to deliver their party's rebuttal to President Bush's State of the Union address. Before a national audience, he didn't pull punches.
Webb was a Republican once because he considered Democrats weak on defense. But he began questioning his party affiliations and his arms-length relationship to politics after 2000.
Powerful Democratic Party figures urged Webb for months to consider a run against Allen, a former governor with a conservative portfolio that made him a serious 2008 GOP presidential prospect. In February 2006, with no political experience, no campaign staff, no money and barely eight months from Election Day, Webb announced he would run.
Webb's narrow victory over Allen wasn't assured until nearly a day after the polls closed and Allen conceded the race. The victory gave the Democrats the 51st seat they needed to wrest outright control of the Senate from the GOP for the first time since 1994.
With Webb's retirement from the Senate, the race between Kaine and Allen in 2012 could determine whether Republicans win back the Senate for the first time since Webb took it from them six years ago.
Source: Associated Press