James 'Jim' Manuel Costa
House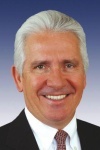 Birthdate: April 13, 1952
Birth Place: Fresno, CA, United States
Residence: Fresno, CA
Religion: Catholic
First Elected: 2004
Gender: Male

Candidacy
Party: Democratic
State: California
Office: House
District: District 16

Education
Undergraduate: California State University - Fresno
Degree: BA

Jim Costa was born in Fresno, Calif., where he still resides. His grandparents immigrated to the Central Valley from Portugal's Azores Islands more than 100 years ago. He was raised on a dairy farm and now farms almonds on his family's property.
He earned a bachelor's degree in political science in 1974 from California State University-Fresno, and interned during college with California Rep. B.F. Sisk.
Costa worked for other legislators before winning election in 1978 to the state Assembly, where he served until term limits prevented him from running again. He served in the state Senate from 1994 to 2002.
He was elected to the U.S. House in 2004.
Costa is single.
Profile
Jim Costa, the representative from California's 20th District, is a fiscally conservative Democrat who has helped lead efforts in the U.S. House toward a regional water plan.
In 2012, following redistricting due to the 2010 Census, Costa will be running in the 16th District. The newly formed district, which runs from Merced County along Highway 99 through the western half of Madera County and the western portion of the city of Fresno, has a 15-percentage-point Democratic voter registration advantage. He will face Republican Brian Whelan in the 2012 general election.
Costa voted to approve the 2010 health care reform bill, in spite of facing some protests from critics. In response to the June 2012 Supreme Court ruling on the bill Costa said, "Now that the Court has ruled, we must come together in a bipartisan fashion to do the hard work of examining health reform to see what works and to improve or replace what doesn't. The decision gives some certainty to individuals, businesses, and health care providers. It's time now that we bring the country together to focus on the economy in order to create more jobs."
Costa's agriculture-dependent district has been decimated by high unemployment and has among the highest foreclosure rates in the country.
He voted for the 2009 approximately $800 billion economic stimulus package backed by President Barack Obama, and in March of that year he helped introduce comprehensive food safety regulation in the wake of several incidents involving food-borne illness.
Costa is a member of the Blue Dog Coalition, a group of fiscally conservative Democrats, and he sometimes irritates labor groups and environmentalists with his positions.
After drought was compounded by a reduction in federal water project deliveries over concerns that Delta smelt were being killed, he secured $18.7 million for Delta Mendota Canal-California Aqueduct Intertie, producing 35,000 acre-feet of water for farmers annually. It was completed in April 2012.
Costa campaigned for the House in 2004 on a platform of increasing investments in education, improving conditions for agricultural workers and keeping jobs for his Central Valley district.
He has advocated during his first three terms in Washington for issues he supported during his time as a state legislator. He co-founded and co-chairs the Congressional Victims Rights Caucus, helped lead a regional water plan and has pushed for a national high-speed rail system. He has also sought to improve sexual harassment and domestic violence laws.
Costa supported free trade agreements to open markets for California agriculture products in South Korea, Colombia and Panama. He helped obtain more than $10 million since 2009 for eradication of the European grapevine moth and the light brown apple moth.
Source: Associated Press