James 'Jim' P. Moran, Jr.
James 'Jim' P. Moran, Jr.
House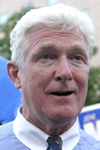 Birthdate: May 6, 1945
Birth Place: Buffalo, NY, United States
Residence: Alexandria, VA
Religion: Catholic
First Elected: 1990
Gender: Male

Candidacy
Party: Democratic
State: Virginia
Office: House
District: District 8

Education
Undergraduate: College of the Holy Cross
Degree: BA

Graduate: University of Pittsburgh
Degree: MPA

Jim Moran was born in Buffalo, N.Y., and now resides in Alexandria, Va. He earned a bachelor's in economics from the College of the Holy Cross in 1967 and a master's in public administration from the University of Pittsburgh in 1970.
Moran was an auditor, accountant and budget analyst for the Department of Health, Education and Welfare from 1970 to 1975.
He was a senior specialist in budgetary and fiscal policy for the Library of Congress, then served until 1980 as a senior staff member to the U.S. Senate Appropriations Committee.
Moran worked several years as a stockbroker and also consulted for a defense contractor. He was elected to the Alexandria City Council in 1979 and was elected mayor in 1985.
He was elected to the U.S. House in 1990.
Moran and his wife, LuAnn, have four children.
Profile
Jim Moran remains a popular figure in his Democratic-leaning district despite a succession of gaffes and questions about his finances over the 10 terms he has served.
Moran defended in early 2009 his acquisition of $2 million in congressional earmarks to create a fleet of electric buses to ease congestion in the Washington suburb of Falls Church, Va. The city ended up with diesel buses instead, usage was half what was expected, and taxpayers had to subsidize the service at $8 a ride.
"We gave it our bet shot," Moran said, blaming the economy for the system's struggles. "That doesn't mean it wasn't a good idea."
Moran was forced out of his regional whip post in 2003 when a furor ensued regarding his remarks that American Jews were pushing the nation toward a war with Iraq.
The Washington Post disclosed in 2002 that Moran vigorously lobbied for bankruptcy reform legislation shortly after receiving an unusual deal to restructure the debt he owed to a bank that supported the measure. Moran denied his activity violated ethics laws and he was not charged with any wrongdoing.
The House Committee on Standards of Official Conduct ended a widespread investigation in February 2010, saying it found no violations by Moran and six other lawmakers who steered government money and projects to companies that donated to their re-election campaigns.
Mary Moran, the congressman's wife for 11 years, filed for divorce in 1999, one day after placing an emergency call to police during a domestic argument at the couple's Alexandria home. No charges were filed, and Moran brought his own divorce complaint three weeks later. In their court filings, each blamed the other for money problems that mounted after their daughter was diagnosed at age 2 with brain and spinal cancer.
Moran joined three colleagues in sponsoring legislation giving school districts a one-year grace period to comply with a federal law that requires children who are learning English to take the same reading tests as their native-speaking peers.
Moran co-sponsored legislation in early 2009 designed to create a U.S. Public Service Academy. He also proposed a 5-cent fee on plastic shopping bags to encourage reusable bag use, and he continued to press for federal recognition for Virginia Indian tribes.
Moran voted for a ban on assault-style weapons, and he introduced legislation in 2004 to ban the commercial sale of .50-caliber rifles, which he described as military-grade weapons less regulated than handguns.
Moran and fellow Virginia Democratic Reps. Bobby Scott and Gerry Connolly sent letters in April 2010 to House colleagues asking them to close what is known as the "gun show loophole." The letters sought support for a bill requiring private firearms sellers to perform background checks on buyers at gun shows.
Moran has shrugged off a series of Republicans who have come after him hoping to capitalize on his unflattering headlines about his words or deeds. None has come close to knocking him off.
The most recent is Republican Patrick Murray, a newcomer who won the 2012 GOP primary and faces Moran, along with to independent candidates, in the November general election.
Source: Associated Press