James 'Jim' Warren DeMint
Senate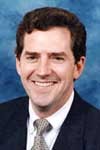 Birthdate: Sept. 2, 1951
Birth Place: Greenville, SC, United States
Residence: Greenville, SC
Religion: Presbyterian
First Elected: 2004
Gender: Male

Education
Undergraduate: University of Tennessee
Degree: BS

Graduate: Clemson University
Degree: MBA

Jim DeMint was born in Greenville, S.C., where he still resides. He earned a bachelor's from the University of Tennessee and a master's in business administration from Clemson University.
DeMint was a Republican precinct president in Rock Hill. He is the president of The DeMint Group, a marketing research firm.
He was elected to the U.S. House in 1998 and served three terms before winning election to the U.S. Senate in 2004, replacing retiring Sen. Ernest 'Fritz' Hollings.
DeMint and his wife, Debbie, have four children.
Profile
Jim DeMint has morphed from a relatively unknown Southern Republican into a national champion of tea party activists, largely through his unabashed criticism of President Barack Obama and his efforts to elect non-establishment candidates in other states.
Through his Senate Conservatives Fund, DeMint has tried to elect people who fit his conservative brand, though it has caused tensions with colleagues.
"I've been criticized by some of my Republican colleagues for saying I'd rather have 30 Republicans in the Senate who believe in the principles of freedom than 60 who don't believe in anything," he said at the 2010 Conservative Political Action Conference in Washington. "Let me make myself even clearer: I'd rather have 30 Marco Rubios in the Senate than 60 Arlen Specters."
A straw poll taken during the conference had DeMint beating conservatives Glenn Beck and Rush Limbaugh as activists' favorite political figure, and some in the crowd shouted that he should run for president.
Political experts trace DeMint's national name recognition to his prediction in July 2009 that health care reform could be President Obama's Waterloo.
DeMint has taken other stands against the Obama administration, including blocking Obama's nominee to head the Transportation Security Administration. DeMint held up for months the confirmation of Errol Southers, saying he worried Southers would allow TSA employees to have collective bargaining rights. Southers withdrew his name from consideration in January 2010.
DeMint and fellow South Carolina Sen. Lindsey Graham voted in June 2010 to uphold a Republican filibuster blocking a bill that would have continued weekly jobless benefits for long-term unemployed workers and provided new aid to state governments.
DeMint is a favorite at tea party rallies and talks regularly about reining in the federal government.
He has railed against the various federal bailout and economic stimulus packages, and has not been bashful about criticizing his own party.
He urged Congress in the fall of 2008 to oppose President George W. Bush's $700 billion bailout for the financial industry. Moments after Obama won the 2008 election, DeMint issued a statement critical of the GOP, which he said was tainted by "scandals and broken promises."
He led a group of seven Senate Republicans who urged President Bush in December 2008 not to use taxpayer money to bailout U.S. automakers, saying that without restructuring, "we do not believe any amount of money will succeed in saving these companies."
DeMint later characterized President Obama's 2009 approximately $800 billion economic stimulus package as "a spending plan."
He offered an alternative measure that consisted of a series of tax cuts, including making permanent cuts that were passed during the Bush administration. DeMint's plan failed along a mostly party-line vote.
DeMint was perhaps best known nationally prior to 2009 for his opposition to earmarks, the targeted spending items sought by Senate and House members. He has had some successes on this front, but most of the time it's a losing battle. The Senate rejected in March 2008 DeMint's proposal for a one-year ban on earmarks.
In May 2012, DeMint was among conservatives who argued against renewal of the Export-Import Bank, saying government should stay out of the marketplace. The Senate ultimately voted to re-up the bank's charger for three years.
In July 2012, DeMint was among the conservative GOP lawmakers who took on the business community, saying the marketplace should dictate what businesses thrive and falter, not Washington.
"What we find now is this cronyism and this corporate welfare, it's corrupting the politics because there's nothing now that goes through that doesn't have a corporate interest," Republican Sen. Jim DeMint told The Associated Press. "It's not just the Ex-Im Bank. It's the transportation bill that has huge entities involved. The farm bill basically guarantees large corporate farmers."
Source: Associated Press