Janice D. Schakowsky
House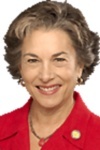 Birthdate: May 26, 1944
Birth Place: Chicago, IL, United States
Residence: Evanston, IL
Religion: Jewish
First Elected: 1998
Gender: Female

Candidacy
Party: Democratic
State: Illinois
Office: House
District: District 9

Education
Undergraduate: University of Illinois
Degree: BS

Jan Schakowsky was born in Chicago and resides in Evanston. She earned a bachelor's in elementary education at the University of Illinois in 1965.
The daughter of an immigrant furniture salesman, Schakowsky became a schoolteacher after college. She stayed home after her children were born until she helped form the National Consumers Union to campaign for freshness labels on food.
She worked for Citizen Action, then the Illinois Public Action Council in 1976 and later worked as an advocate for seniors.
She was elected to the Illinois House in 1990, serving until her 1998 election the U.S. House.
Schakowsky is married to Robert Creamer. She has two children from her first marriage and a stepdaughter.
Profile
Elected to a seventh term in 2010, Jan Schakowsky has become a prominent liberal voice in Congress. She was a vocal supporter of the 2010 health care overhaul and served on the Simpson-Bowles deficit commission but objected to its recommendations.
During her first term in the House, Roll Call newspaper called her "one of the stars of the freshman class." She is now a member of House leadership, serving as chief deputy whip.
Her quick rise was aided by her status as one of the Democratic caucus' hardest working fundraisers and by her early support of House Speaker Nancy Pelosi. However, Schakowsky lost a 2006 race for vice chairman of the House Democratic Caucus.
She was part of a group of 10 Democratic House members who signed a letter in April 2012 criticizing New York Mayor Michael Bloomberg for his "underhanded and unprofessional" response to criticism of the New York Police Department's spying programs, which had for months been systematically targeting Muslims neighborhoods, using informants and undercover officers to serve as "listening posts" in mosques and businesses in New York and New Jersey.
Schakowsky is the Democratic chair of the Congressional Caucus on Women's Issues. She has pushed for provisions in legislation to expand housing for low-income people and assistance for small business owners and farmers.
After Obama was elected president, Schakowsky was often mentioned as a possible replacement for his Senate seat and she spoke to then-Gov. Rod Blagojevich about getting the appointment. But that hope was dashed when Blagojevich was arrested in December 2008 and accused of trying to trade the appointment for personal and political gain. Schakowsky says the former governor never proposed any sort of improper deal with her.
Schakowsky spoke out when Blagojevich's appointee, Roland Burris, got in hot water over his changing story regarding his contacts with the governor and the governor's allies. As questions mounted in early 2009, Schakowsky called for Burris to resign and she urged Illinois lawmakers to pass legislation cutting short Burris' appointment. Burris survived the initial furor, but his term ended in 2010.
She was an outspoken critic of President George W. Bush, calling for an end to the Iraq War and introducing a resolution calling for his impeachment.
Her husband, political consultant Robert Creamer, pleaded guilty in 2005 to federal tax violation and bank fraud charges involving check kiting.
Before Schakowsky was a politician, she was a consumer advocate _ a mantle she hasn't given up since taking office. She has worked on legislation to help victims of identity theft, protect children from dangerous toys and crack down on predatory lenders.
Source: Associated Press