Janice Kay Hahn
House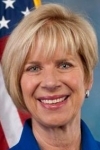 Birthdate: April 12, 1952
Birth Place: Los Angeles, CA, United States
Residence: Los Angeles, CA
Religion: Christian
First Elected: 2011
Gender: Female

Candidacy
Party: Democratic
State: California
Office: House
District: District 44

Education
Undergraduate: Abilene Christian University
Degree: BS

Janice Hahn was born and resides in Los Angeles. She has a bachelor's degree in education from Abilene Christian University.
She comes from a family of politicians; her father was former Los Angeles County Supervisor Kenneth Hahn, a legendary figure in local politics who held office for decades. Her brother James Hahn served as mayor of Los Angeles from 2001 to 2005.
In 1993 she made an unsuccessful bid for a seat on the Los Angeles City Council. She also failed in her race for Congress in 1998. In 2001, she was elected councilwoman for the 15th District, a position she served in for 10 years. In 2010, she ran unsuccessfully for lieutenant governor of California.
Hahn was elected to the U.S. House in a special election in 2011.
She is a single mother of three.
Profile
Janice Hahn is in a fierce battle against fellow Democratic Rep. Laura Richardson for re-election to the House after redistricting set up a contest between the two incumbents in Los Angeles' Hispanic-majority 44th Congressional District. The two Democratic incumbents have divided support.
A longtime Los Angeles city councilwoman, Hahn arrived in Washington in 2011 as a fixture in local Los Angeles Democratic politics who wanted to see the end of the wars in Iraq and Afghanistan and the growth of alternative energy.
The freshman congresswoman won her seat for the 36th Congressional District in a 2011 special election after Democratic Rep. Jane Harman resigned to head a Washington think tank. She fought an unusually tough race against Republican Craig Huey, a businessman, to preserve her party's hold on that district of picturesque beaches which has been a longtime stronghold for the Democrats.
In June 2012, Hahn applauded the Supreme Court's decision upholding the 2010 health care reform bill, calling the ruling "a victory for the health of the American people. Today's decision is good news for the parents of 17 million children who can no longer be denied care because of a preexisting condition. It is a win for the 6.6 million young adults who are now able to stay on their parent's health care plans. And the ruling is a huge relief to the 105 million Americans who no longer have a lifetime limit on their health coverage," she said.
Hahn is pro-choice and a strong supporter of Planned Parenthood. In 2011, she co-sponsored the Respect for Marriage Act, which repeals the Defense of Marriage Act and would allow the federal government to provide benefits to couples in same-sex marriages without compelling states to recognize those marriages. She supported President Barack Obama's repeal of the "don't ask, don't tell" policy on gays in the military.
As she did in 2011, Hahn has been aggressively fundraising, bringing in twice as much money as Richardson in the first quarter of 2012.
The Los Angeles Times endorsed her in May 2012, saying she is no political novice as a three-term councilwoman. As a congresswoman, she has closely voted along party lines. The Times touted her as a committed environmentalist and a strong advocate for the poor. The paper also said the working-class communities in her district need someone who can give her full attention, noting that Richardson has been mired in controversy.
Richardson was investigated by the House Ethics Committee on allegations she improperly used staff for political purposes. Richardson charged she was singled out for scrutiny because she's African-American.
Source: Associated Press