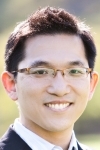 Birthdate: Feb. 23, 1978
Birth Place: Kalamazoo, MI, United States
Residence: Hacienda Heights, CA
Gender: Male

Candidacy
Education
Jay Chen was born in Kalamazoo, Mich., and is the son of Taiwanese immigrants. As a child, Chen spent time in Ohio, Indiana, Oregon and three years in Singapore before his family settled in Hacienda Heights, Calif.
He earned a bachelor's degree in social studies from Harvard University and a certificate in Latin American studies from Harvard's David Rockefeller Center. He is an intelligence officer in the U.S. Navy Reserve and is fluent in Spanish and Mandarin.
Chen is a real estate investor. He has also worked for Bain & Company, a global business-consulting firm, and as a travel writer for the travel series Let's Go. He also studied at Le Cordon Bleu and received a culinary arts certificate there.
He and his wife, Karen, live in Hacienda Heights.
Profile
Jay Chen is running to represent California's recently redrawn 39th Congressional District, which now encompasses areas with a heavy Asian-American population. His parents are Taiwanese immigrants, and he attended local public schools and sits on the district's school board.
Chen has campaigned in 2012 on a trio of issues, including bringing more high-tech jobs to the U.S. by giving tax breaks to small businesses and tax credits to companies that bring those jobs.
He has also proposed making the U.S. education system more responsive to the demands of the global economy and making college more affordable, in part by allowing graduates to pay down educational expenses with service careers.
Chen vows to improve transportation infrastructure and support green technology initiatives to reduce dependence on foreign oil.
Source: Associated Press