Jeb Hensarling
House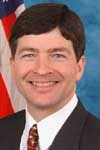 Birthdate: May 29, 1957
Birth Place: Stephenville, TX, United States
Residence: Dallas, TX
Religion: Christian
First Elected: 2002
Gender: Male

Candidacy
Party: Republican
State: Texas
Office: House
District: District 5

Education
Undergraduate: Texas A&M University
Degree: BA

Graduate: University of Texas
Degree: JD

Jeb Hensarling was born in Stephenville, Texas, raised in College Station and now lives in Dallas. He earned a bachelor's in economics from Texas A&M University and a law degree from the University of Texas School of Law.
Hensarling worked as an aide to former Texas Sen. Phil Gramm and was executive director of the National Republican Senate Committee.
He was elected to the U.S. House in 2002.
Hensarling and his wife, Melissa, have two children.
Profile
Jeb Hensarling has developed a reputation as a budget hawk, a distinction that landed him in 2010 on President Barack Obama's bipartisan fiscal commission, which is charged with finding ways to reduce skyrocketing federal deficits by 2015.
Hensarling, a strong believer in lower taxes and less government spending, provoked a testy exchange with Obama during a House Republican retreat in early 2010, raising his skepticism about whether the Obama commission will do any meaningful work.
A few weeks before Hensarling was named to the fiscal commission, he proposed a constitutional amendment that would require federal spending controls. He served in 2009 on the congressional oversight panel for the approximately $800 billion economic stimulus package.
While delivering the weekly Republican address in the lead up to the 2012 State of the Union address, Hensarling again took Obama to task. He criticized Obama's rejection of a pipeline extension, the decline in jobs and an increase in gas prices and the number of people on food stamps.
"Regardless of the president's good intentions, his policies have failed the American people. His policies haven't just failed to make the economy better they have actually made it worse," he said.
Hensarling got to Washington in 2002 by stressing his conservative philosophy and rural roots that appealed to his East Texas constituents.
While his budget-watching tendencies found some detractors, he stirred things up and divided the Texas delegation when he filed a bill that sought to repeal the Wright Amendment.
The amendment, named for former U.S. House Speaker Jim Wright of Texas, restricts flights to and from Dallas Love Field. Repeal efforts failed, but some of the restrictions were loosened. Hensarling considered the amendment anti-competitive and archaic.
Hensarling's proposal also renewed a rivalry between two of Texas' largest airlines, American and Southwest.
The amendment episode is just one of the instances when Hensarling moved against the GOP establishment _ an establishment he served loyally before landing in Congress.
Hensarling is a protege of former Sen. Phil Gramm. He served as Gramm's state director from 1985 to 1989 and managed Gramm's re-election campaign in 1992. He also served as executive director of the National Republican Senatorial Committee during the 1992 election.
Hensarling also served as a spokesman for Green Mountain Energy, a company owned by a Dallas entrepreneur who was later revealed as the financier behind ads criticizing Sen. John McCain's environmental record during the 2000 presidential campaign.
Hensarling is a co-founder of the Washington Waste Watchers, a group designed to identify and eliminate government waste, fraud and abuse.
Source: Associated Press