Jeff Fortenberry
House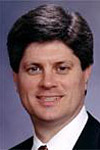 Birthdate: Dec. 27, 1960
Birth Place: Baton Rouge, LA, United States
Residence: Lincoln, NE
Religion: Catholic
First Elected: 2004
Gender: Male

Candidacy
Party: Republican
State: Nebraska
Office: House
District: District 1

Education
Undergraduate: Louisiana State University
Degree: BA

Graduate: Franciscan University
Degree: MA

Graduate: Georgetown University
Degree: MPP

Jeff Fortenberry was born in Baton Rouge, La., and now lives in Lincoln, Neb. He earned a bachelor's in economics from Louisiana State University in 1982, a master's in public policy from Georgetown University in 1986 and a master's in theology from Franciscan University in 1995.
Fortenberry was assistant director of the Downtown Development District in Baton Rouge and a research associate and economist at the Gulf South Research Institute, now known as Gulf Engineers, in Baton Rouge.
He moved to Nebraska in 1995 and served on the Lincoln City Council from 1997 to 2001. He was also a sales representative for a Lincoln publishing company.
He was elected to the U.S. House in 2004.
Fortenberry and his wife, Celeste, have five daughters.
Profile
A solidly conservative voice in the House, Jeff Fortenberry enters the 2012 general election with four terms under his belt, nearly $700,000 in his campaign war chest and opposition from a political unknown who's never run for public office.
Given that, the former economist isn't expected to spend much on political ads and electioneering as the November election nears. But that doesn't mean he won't spread his message opposing abortion, the 2010 health care reform bill and ever-increasing government spending, while touting efforts to pump up agriculture in his mostly rural eastern Nebraska 1st District.
His legislation on agriculture has covered everything from fighting the Department of Labor on plans to restrict youth working in agriculture to prohibiting the federal government from imposing any fees or taxes on "gaseous emissions emitted directly by livestock" as part of any effort to reduce the effects of climate change.
After his re-election in 2010, he was named chairman of the Subcommittee on Department Operations, Oversight and Credit, a panel that reports to the House's Agriculture Committee.
The Louisiana native and staunch Roman Catholic supported a measure to eliminate some $50 million that President Barack Obama requested for the U.N. organization that helps women and children in developing countries with reproductive health and family planning. He was among Republican members of the House Foreign Relations Committee who criticized the U.N. Population Fund's efforts in China, which limits urban families to one child and rural families to two if their first is a girl.
Fortenberry has been especially critical of China's record on human rights, as well as the country's "lax labor and environmental standards" and its manipulation of its currency and one-sided trading conditions.
His Catholic beliefs also came into play in his opposition to abortion, gay marriage and almost every issue supported by Obama, including health care reform. He opposed President Obama's decision in 2009 to lift restrictions on embryonic stem cell research, saying it "revives the ethically divisive issue of the destruction of unborn human life for research purposes. Adult stem cell research is good science that is now helping to save American lives. This is where our limited federal taxpayer dollars should be invested."
In response to a mandate in the 2010 health care reform bill that most employers cover birth control costs for workers, Fortenberry authored a bill to codify a series of exceptions on religious and conscience grounds.
Source: Associated Press