Jefferson 'Jeff' B. Miller
Jefferson 'Jeff' B. Miller
House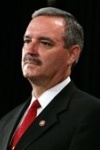 Birthdate: June 27, 1959
Birth Place: St. Petersburg, FL, United States
Residence: Chumuckla, FL
Religion: Methodist
First Elected: 2001
Gender: Male

Candidacy
Party: Republican
State: Florida
Office: House
District: District 1

Education
Undergraduate: University of Florida
Degree: BA

Jeff Miller was born in St. Petersburg, Fla., and now resides in Chumuckla. He earned a bachelor's in journalism in 1984 from the University of Florida.
Miller was an executive assistant to Democratic state Agriculture Commissioner Doyle Conner from 1984 to 1988.
A real estate broker, Miller was elected to the Florida House in 1998 and re-elected in 2000.
He won a special election to the U.S. House in 2001, succeeding Rep. Joe Scarborough, who resigned.
Miller and his wife, Vicki, have two children.
Profile
Jeff Miller was a lifelong Democrat until he switched parties in 1997 to run for the Florida House. He has been a loyal Republican ever since.
He has established a strong conservative voting record in the U.S. House, with a 95.95 lifetime rating from the American Conservative Union _ the highest among Florida's congressmen.
Miller was a key legislator in dealing with the aftermath of the 2010 BP oil spill in the Gulf of Mexico. He has fought for money from BP to help rebuild the area's tourism economy and pushed President Barack Obama to waive an act keeping foreign-flagged oil-skimming ships from working in the region.
In August 2012, Miller, the chairman of the House Veterans' Affairs Committee, questioned spending at Department of Veterans Affairs conferences. He said that the VA authorized $9 million for a series of conferences and said a preliminary investigation has found that planning trips for the conferences cost taxpayers thousands of dollars. He said VA employees reportedly received gifts including alcohol, concert tickets and spa treatments. Miller said VA officials had assured his committee earlier that oversight of spending was adequate.
The VA said in a statement that the conferences were for legitimate training purposes, but the VA's inspector general is looking into allegations of misconduct.
Miller introduced a bill in February 2009 that would prohibit prisoners detained at Guantanamo Bay, Cuba, from receiving medical treatment in the same facility where U.S. military personal are also treated. He has long fought for a VA hospital in his district, and was pleased when two VA clinics opened there in 2008.
"By locating these clinics near Department of Defense health care facilities, the opportunity to share resources and specialized care is vastly increased. Rest assured that I will continue my work to bring increased levels of care to Northwest Florida. Our veterans put their lives on the line for our nation's freedom, and we owe them an eternal debt of gratitude," Miller said.
Miller was a main sponsor of a bill that makes it harder to restrict hunting and fishing on public lands and ensures that the hunter's arsenal will continue to include lead bullets. The lead issue refers to efforts by environmentalists to ban the use of lead in ammunition and fishing tackle. They say lead poisoning kills 10 million to 20 million birds and other animals every year and that hunters who eat what they hunt have also been shown to have higher levels of lead in their bloodstreams.
Miller countered that "with very limited exceptions, there is simply no sound evidence that the use of traditional ammunition is causing harm to wildlife or their population." He added that, according to the Centers for Disease Control, "there has never, never been a case where lead poisoning has been traced to wild game meat." The House passed the bill in April 2012.
Miller voted in 2003 against an extension of federal unemployment benefits backed by President George W. Bush, arguing that it would discourage jobless people from seeking work. He also voted against the 2003 Medicare prescription drug benefit on the grounds that it is too expensive.
Miller accompanied Bush during a visit to Florida shortly after Hurricane Ivan devastated the district in 2004. Miller tried to help local officials obtain reimbursements for debris removal delayed by the Federal Emergency Management Agency.
Earlier in his political career, Miller was a leader in efforts to block offshore drilling in the eastern Gulf of Mexico, citing potential harm to tourism and a vast water range for military training and weapons testing operated by Eglin Air Force Base.
When pressure to drill intensified in 2005 and 2006, Miller was part of an unsuccessful effort to reach a compromise that would have opened parts of Florida's offshore areas in exchange for long-term protection.
He called in 2008 for an increase in the domestic production of oil and natural gas, saying he supports drilling in the Arctic National Wildlife Refuge and leasing for exploration in parts of the Gulf of Mexico that do not interfere with the military.
Miller has traveled to Afghanistan and Iraq, visiting American troops and criticizing negative press coverage of the wars there. He has been unwavering in his support for the Iraq war even as casualties have mounted.
Source: Associated Press