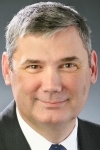 Birthdate: Oct. 6, 1962
Birth Place: Cincinnati, OH, United States
Residence: Cincinnati, OH
Religion: Roman Catholic
Gender: Male

Education
Jeff Sinnard is a Cincinnati native who earned a bachelor's in engineering from the University of Cincinnati and began a career as civil engineer.
After working for several engineering firms, he became a consultant working from home. In 2012, he worked for a landscaping and architecture company.
Sinnard and his wife, Lucy, have three children.
Profile
Jeff Sinnard had run for office three times previously before narrowly winning the 2012 Democratic primary for Ohio's 1st District U.S. House seat. He faces incumbent Republican Rep. Steve Chabot in the November general election.
Sinnard finished a distant fifth in both the 2005 and 2006 Democratic primary for Ohio's 2nd District, which included his Anderson Township home east of Cincinnati.
He then ran as the Democratic nominee for Ohio's 34th District in 2008, getting 40 percent of the vote against Republican Peter Stautberg.
In 2012, Sinnard said the economy and jobs were his top issues, and that he would push for getting people back to work and for a more equitable system that rewarded work, not just wealth.
He describes himself as pro-life.