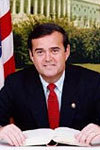 Birthdate: Sept. 25, 1949
Birth Place: East St. Louis, IL, United States
Residence: Belleville, IL
Religion: Roman Catholic
Gender: Male

Candidacy
Education
Jerry Costello was born in East St. Louis, Ill., and resides in Belleville. He earned an associate degree at Belleville Area College and a bachelor's in political science at Maryville College in St. Louis, now known as Maryville University.
Costello's career includes working as chief investigator for the St. Clair County state's attorney office and as director of court services and probation for a five-county judicial circuit. In 1980, he was elected to a two-year term as St. Clair County Board chairman and won re-election in 1982 and 1986.
He was elected to the U.S. House in 1998 in a special election to fill the vacancy left by the death of Democratic Rep. Melvin Price, who had served for 44 years.
Costello and his wife, Georgia, have three children.
Profile
After more than 20 years representing Illinois' 12th Congressional District, which runs from St. Louis' Illinois suburbs to the state's southernmost tip, Jerry Costello abruptly announced in October 2011 that he would not seek a 13th term in 2012, leaving the state's only open seat.
Costello is the longest-serving Democrat in the state's U.S. House delegation, and Republicans swiftly greeted his planned retirement as an opportunity to flip the seat into the GOP column even though only two men _ both Democrats, including Costello _ have represented the 12th District since World War II.
Illinois Democrats hope a redrawn political map allows them to undo GOP gains in 2010 as part of their efforts to win back a majority in the House. Congressional analysts say it is a critical seat for Democrats to hold, but Republicans are banking on the conservative leanings of the district _ which encompasses a large swath of long-time economically stressed territory _ angst over environmental regulations relating to coal and signs of frustration with Washington and Illinois' Democratic leadership.
In 2010, even as Republicans surged to take back the House, Costello got more than 60 percent of the vote, handily winning re-election. Southern Illinois is replete with culturally conservative "Blue Dog" Democrats, the kind that Costello repeatedly won over while he compiled an often-conservative voting record on such things as reproductive rights and gun rights. In line with coal-country interests, he has voted against some energy and environmental legislation.
In recent years, Costello is credited with helping secure federal funding for a new Mississippi River bridge linking St. Louis to his district while pressing legislation meant to stave off property owners from having to buy mandatory and perhaps expensive flood insurance.
Costello's last-minute change of heart helped decide the fate of the 2010 national health care overhaul.
Costello had opposed the health care plan advocated by President Barack Obama and Democratic leaders in Congress, primarily because of his concern that it would provide tax money to pay for abortions. But Costello agreed to back the plan after Obama agreed to sign an executive order barring the use of federal funds for abortions.
"This has been the hardest decision regarding a vote I have had to make during my service in the House of Representatives," Costello said before casting his vote.
Costello has been diligent about reminding voters what the federal government can do for them. In press releases and public appearances, Costello has highlighted the aid going to his district _ a child care center at Scott Air Force Base, for instance, or a $4.6 million grant for a local airport.
In 1997, a federal judge identified Costello as a co-conspirator for improperly helping with a plan to build an Indian casino with longtime friend and business partner Amiel Cueto, who was convicted and spent six years in prison. Costello was not indicted in the incident and said he had no interest in the casino and did not work in Congress to win support for the project.
Costello calls himself a "moderate on social issues" and on his website he talks about his opposition to the Clean Air Act, saying it was "grossly unfair to the Midwest and has devastated the coal industry in southern Illinois."
In the 2002 Illinois gubernatorial campaign, Costello was an early supporter of Rod Blagojevich and helped the Chicago congressman win the Democratic primary and general election with a strong showing in southern Illinois.
A year later, Costello's son-in-law, Brian J. Keen, a captain in the Illinois Air National Guard, landed a $69,000-a-year job flying planes for the state. His duties included flying Blagojevich and other officials.
Source: Associated Press