Jerry McNerney
House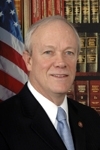 Birthdate: June 18, 1951
Birth Place: Albuquerque, NM, United States
Residence: Stockton, CA
Religion: Roman Catholic
First Elected: 2006
Gender: Male

Candidacy
Party: Democratic
State: California
Office: House
District: District 9

Education
Graduate: University of New Mexico
Degree: PhD

Jerry McNerney was born in Albuquerque, N.M., and now lives in Stockton, Calif. He attended the U.S. Military Academy for two years before earning a doctorate in mathematics in 1981 from the University of New Mexico.
McNerney worked for many years in the renewable energy field and was a wind engineer heading a company that manufactured wind turbines. He has consulted on energy for Pacific Gas & Electric Co. and others.
He was elected to the U.S. House in 2006.
McNerney and his wife, Mary, have three children.
Profile
Jerry McNerney was a long-shot candidate in the 2006 election _ and not the Democratic Party's first choice _ when he stunned the political establishment by unseating incumbent Republican Rep. Richard Pombo in California's GOP-friendly 11th District. The district was the only one of California's 53 districts to change party hands in 2006, and McNerney was narrowly re-elected to a third term in 2010.
But redistricting in 2011 has put McNerney up against young GOP challenger Ricky Gill, who is mounting an aggressive campaign to cut into McNerney's territory in the 2012 general election. What is now the 9th District appears more Democratic on paper, but GOP officials say it will benefit conservative candidates because it encompasses more of the agricultural San Joaquin Valley.
McNerney lived for years in Pleasanton, on the San Francisco Bay-area side of the previous 11th District. But after redistricting, he moved to Stockton in spring 2012 to stay within the district's new boundaries.
After his election to Congress in 2006, McNerney was given lead roles on alternative energy legislation and was placed on the House Transportation and Infrastructure Committee.
He calls for increasing fuel efficiency in new vehicles, promoting more incentives for developing renewable energy resources and creating more public transportation. He has proposed legislation to encourage water reuse, reclamation and recycling; assist veterans with traumatic brain injuries; and invest in geothermal energy production.
He has been a critic of proposals to build a canal around the Sacramento-San Joaquin Delta, warning that it could damage the delta's environment.
McNerney's legislation has included bills to develop a more efficient electrical grid, create the electrical infrastructure needed for plug-in hybrid and electric vehicles and provide $100 million in grants to develop job training in the renewable energy field. He also introduced a bill to stop companies from outsourcing jobs by identifying corporate tax havens and raising penalties for tax evasion, but it has remained in committee.
He often has voted along party lines since joining Congress. He supported in 2010 the passage of the health care reform bill, an overhaul of the nation's financial regulations, and a defense spending bill that contained a provision to repeal the "don't ask, don't tell" policy prohibiting gays from serving openly in the military.
However he bucked his party's stance in voting to repeal the gun ban on National Park Service land, voting against the Democratic estate tax bill and in favor of easing certain regulatory requirements for farmers.
McNerney is in a difficult position in trying to please both the conservative voters in his district and the liberal activists who helped push him to power, and he hasn't always pulled off the balancing act.
He led other first-term lawmakers on a trip to Iraq in July 2007. When he returned he spoke favorably of Gen. David Petraeus, saying he would be willing to reconsider a firm withdrawal deadline from Iraq, a position that angered some liberal supporters.
Farmers who supported Pombo were skeptical of McNerney, but he has worked hard to overcome this by holding regular events in the district. Now, the challenger Gill is seeking to erode this support, saying McNerney's work on the House Subcommittee on Energy and Environment has failed to create much in the way of green jobs.
McNerney maintains a personal distaste for fundraising, but he has posted strong numbers from the moment he came to Congress, thanks in large part to help from Democratic Party leaders.
McNerney has said he decided to run for Congress at the urging of his son, Michael, who signed up for an Air Force commission after Sept. 11. McNerney has advocated prominently for veterans.
Source: Associated Press