Jesse Francis 'Jeff' Bingaman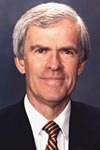 Birthdate: Oct. 3, 1943
Birth Place: El Paso, TX, United States
Residence: Santa Fe, NM
Religion: Methodist
Gender: Male

Candidacy
Education
Jeff Bingaman was born in El Paso, Texas, and grew up in Silver City, N.M., in the southwestern part of the state.
He earned a bachelor's degree in government from Harvard University in 1965 and a law degree from Stanford University in 1968.
He was elected to the U.S. Senate in 1982 and served five terms before retiring in 2012. He was New Mexico's attorney general from 1979 to 1982.
Bingaman was in the Army Reserve from 1968 to 1974. He also worked in a private law practice in Santa Fe.
He and his wife, Anne, have a son.
Profile
Jeff Bingaman has carved out a reputation on Capitol Hill as a no-frills legislator who eschews the limelight.
"In some ways not tooting your own horn can help you be effective," Bingaman said.
In a political world dominated by snappy sound bites and 30-second TV campaign ads, the Democrat stands out for his quiet, serious-minded style. But he decided against seeking re-election in 2012 and will leave the Senate at the end of his fifth term.
"At some point in any one of these jobs, you come to a point where you think you've made your best effort, and it's time to move on and allow someone else to serve. And that's the point I've arrived at," Bingaman said in February 2011.
Even his GOP colleagues applauded Bingaman's approach to legislation.
"He has been an honest partner in developing legislation, and under his leadership there's been a real effort to broker bipartisan agreement on policies that advance the nation's energy security," said Alaska Sen. Lisa Murkowski, the ranking Republican on the Energy and Natural Resources Committee.
Bingaman, chairman of the energy committee, has pushed for a national standard that would require utilities to generate a portion of their electricity from renewable energy sources. His other energy policy priorities include stronger energy efficiency standards for appliances and incentives for clean energy production.
He also has expressed concerns about the security of the nation's electrical grid.
"A major disruption of the electric transmission grid, or the equipment it contains, as part of a cyberattack could have disastrous consequences," Bingaman said. "We need to ensure that adequate preventative measures are in place across the grid. The problem is that we don't currently have mechanisms to ensure that these needed steps are being taken. The whole grid is as vulnerable as its weakest link."
When gasoline prices spiked, Bingaman said the solution wasn't increased domestic oil production because that couldn't reduce global oil prices. The U.S. should instead focus on reducing its oil dependence, he said, by expanding renewable fuels sources and increasing the use of electric and natural gas powered vehicles.
"We need to keep drilling; we're good at it, and it is helpful to have more supplies on the world market, and I am not arguing against that. But at the same time, we need to recognize that the long-term solution to this challenge is to move away from such great dependence on oil," said Bingaman.
In announcing his retirement, Bingaman said he hadn't decided what he'll do after leaving the Senate but he and his wife, Anne, a lawyer, plan to return to a home they own in Santa Fe.
"I expect to find some other things to do," he said. "I just don't know what they are."
However, some New Mexico Democrats already have another political job in mind for Bingaman and hope to persuade him to run against first-term Republican Gov. Susana Martinez in 2014.
Source: Associated Press