Jesse Louis Jackson, Jr.
House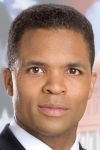 Birthdate: March 11, 1965
Birth Place: Greenville, SC, United States
Residence: Chicago, IL
Religion: Baptist
First Elected: 1995
Gender: Male

Candidacy
Party: Democratic
State: Illinois
Office: House
District: District 2

Education
Undergraduate: North Carolina Agricultural and Technical State University
Degree: BS

Graduate: Chicago Theological Seminary
Degree: MA

Graduate: University of Illinois
Degree: JD

Jesse Jackson Jr. was born in Greenville, S.C., and resides on Chicago's South Side.
He earned a bachelor's at North Carolina A&T State University in 1987, a master's at the Chicago Theological Seminary in 1990 and a law degree at the University of Illinois College of Law in 1993.
Jackson was the president of the Keep Hope Alive PAC in 1989 and 1990. He served as the vice president of Operation PUSH from 1991 to 1995 and as national field director for the National Rainbow Coalition from 1993 to 1995.
He was elected to the U.S. House in a special election in 1995. In 1996, he coauthored a book about the death penalty with his father, the famed civil rights leader, the Rev. Jesse Jackson, titled "Legal Lynching."
In 2008, Jackson served as the national co-chair of Barack Obama's presidential campaign.
Jackson and his wife, Sandi, have two children.
Profile
For the first time since he won office in 1995, U.S. Rep. Jesse Jackson Jr., had to actively run a campaign, hiring a public relations firm for Illinois' 2012 Democratic primary election.
The Chicago Democrat had enjoyed an overwhelming majority in each election since 1995 with no Democratic challengers until former one-term U.S. Rep. Debbie Halvorson decided to run against him in 2012. She said a new congressional map, which added more white and rural voters to the largely black and urban district, along with Jackson's ethical issues made him vulnerable.
Jackson is under investigation by the House Ethics Committee for alleged ties to former Gov. Rod Blagojevich. He has also acknowledged an extra-marital affair.
However, neither issue appeared to resonate with voters in the end, as Jackson easily won the Democratic nomination in March 2012. But the campaign did bring back glimpses of the fiery congressman who is the son of civil rights icon the Rev. Jesse Jackson. Until the election, the younger Jackson had been denying news media interviews and limiting public appearances since the Blagojevich allegations surfaced in 2008.
After then-Sen. Barack Obama was elected president, Jackson made clear that he was interested in being named Obama's replacement in the Senate. When Gov. Rod Blagojevich was arrested in December 2008, the charges claimed Blagojevich believed he could get $1 million from "Senate Candidate 5" _ later revealed to be Jackson _ for the appointment. Jackson denied offering Blagojevich anything improper in exchange for the Senate seat.
Most recently Jackson has continued to push ahead on his pet-project for a third Chicago area airport, even presiding over a ceremonial groundbreaking in April 2012, even though the project faces opposition from area residents and Will County officials.
Activism is in Jackson's blood. When he was born in Greenville, S.C., his father was marching for voter rights in Selma, Ala. The younger Jackson even spent his 21st birthday in a jail cell in Washington, D.C., for participating in a protest against apartheid at the South African embassy.
While his politics are similar to his those of his father, many consider Jackson Jr. to be more pragmatic and willing to cross the aisle to get a job done. He was an early supporter of Obama's presidential campaign and even wrote a piece in the Chicago Sun-Times criticizing his dad for chastising Obama.
In the spring of 2006, Jackson was one of more than 30 Democrats who favored the creation of a committee to make recommendations on whether President George W. Bush should be impeached over Iraq-related policies.
Jackson voted for the health care reform bill in March 2010, calling it a "defining moment" in American history. "Just as Social Security and Medicare, this comprehensive health insurance reform bill saves lives and perfects our Union," he said at the time.
Source: Associated Press