Jim Adelbert McDermott
House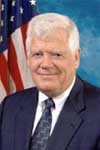 Birthdate: Dec. 28, 1936
Birth Place: Chicago, IL, United States
Residence: Seattle, WA
Religion: Episcopalian
First Elected: 1988
Gender: Male

Candidacy
Party: Democratic
State: Washington
Office: House
District: District 7

Education
Undergraduate: Wheaton College
Degree: BS

Graduate: University of Illinois
Degree: MD

Jim McDermott was born in Chicago and now resides in Seattle. He earned a bachelor's in 1958 from Wheaton College and a medical degree in 1963 from the University of Illinois.
McDermott served in the Navy from 1968 to 1970, and was chief psychiatrist at Long Beach Naval Station, Calif., caring for returning Vietnam War veterans and their families. He had a private practice in Seattle from 1970 to 1983.
He was elected to the U.S. House in 1988.
McDermott and his wife, Therese, have two children.
Profile
Liberal firebrand Jim McDermott has displayed such a hold on his urban district that he's called Seattle's congressman-for-life by supporters and critics alike. But the 7th District has changed with redistricting this year _ it's estimated at only 76 percent Democratic, rather than 80 percent.
It is doubted that the change will give much of an opening to McDermott's 2012 opponent, Republican Ron Bemis. McDermott has never garnered less than 70 percent of the vote since taking office in 1988.
Still, the redistricting _ and a challenge from a wealthy young Democrat _ prompted McDermott to run two television campaign ads during the 2012 primary _ the first TV ads he's run since he was first elected.
A psychiatrist by training, McDermott has made health care reform one of his top priorities. Though he advocates a single-payer system, he supported the Affordable Care Act, and he described the day the U.S. Supreme Court upheld the law as the happiest of his career. He says he's looking forward to working to improve it as it takes effect.
McDermott voted for the 2009 approximately $800 billion economic stimulus plan backed by President Barack Obama. And while he first voted in favor of the initial 2008 $700 billion financial industry bailout, he was the only member of the House to switch his vote to no on a second version of the bill that October. McDermott said changes made by the Senate _ primarily a series of tax breaks costing more than $100 billion _ made the bill unacceptable.
In summer 2010, McDermott, long known for his antiwar views, voted against a $59 billion war funding bill. He told The Seattle Times: "If we really want to help the Afghan people form a functioning government that serves its people and respects human rights, we must do it with additional aid and support _ not with more troops."
McDermott occasionally draws the ire of conservatives for his fiery public pronouncements. In 2007 he voted against a House resolution recognizing the importance of Christmas and described his vote as a protest against President George W. Bush's veto of a children's health care bill.
Source: Associated Press