Jim Daniel Jordan
House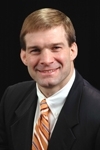 Birthdate: Feb. 17, 1964
Birth Place: Troy, OH, United States
Residence: Urbana, OH
Religion: Christian
First Elected: 2006
Gender: Male

Candidacy
Party: Republican
State: Ohio
Office: House
District: District 4

Education
Undergraduate: University of Wisconsin
Degree: BA

Graduate: Ohio State University
Degree: MA

Graduate: Capital University
Degree: JD

Jim Jordan was born in Troy, Ohio, and lives in Urbana. He earned a bachelor's in economics from the University of Wisconsin, where he was a two-time NCAA wrestling champion. He earned a master's in education from Ohio State University and a law degree from Capital University.
Jordan was elected to the Ohio House in 1994, to the Ohio Senate in 2000, and to the U.S. House in 2006.
He and his wife, Polly, have four children.
Profile
Jim Jordan, a social and fiscal conservative, was relatively unknown during his first years in Congress until he found himself at the center of a debate over reducing the deficit.
He was a driving force in the 2011 debt debate, standing up to President Barack Obama and going against the leaders in his own party. He pushed for deeper spending cuts and a constitutional balanced budget amendment amid cries that his stand was pushing the government toward default.
Obama said Jordan and his fellow conservatives were putting their beliefs above their country.
Jordan shrugged off Obama's criticism. "I would look at it this way: If standing firm for a common-sense plan, if the president's got a problem with that, well, I don't know how I'm going to help him," he said.
Jordan's clout rose during his third term when he won the chairmanship of the Republican Study Committee, the conservative voice of the GOP caucus, after the party gained control of the House from Democrats in the 2010 election.
Jordan took on a pair of controversial issues dealing with gay rights in his second term in Congress.
He opposed the House's decision in 2010 to vote for a defense bill that paves the way for gays to serve openly in the military. He said he worried that the move would jeopardize the military's effectiveness and preparedness.
Jordan also co-sponsored a bill in 2009 to overturn the District of Columbia's decision to recognize same-sex unions from other states. "This is a fight we cannot shy away from, and it is a fight we have to win," he said.
Jordan has made little use of earmarks to fund projects in his district and has tried to limit them.
The National Taxpayers Union in 2009 named Jordan a recipient of its Taxpayers' Friend Award for his voting record.
Jordan represents an area of Ohio that is home to big auto plants and small parts suppliers, but he declined to back federal aid for the U.S. automakers in 2008 and 2009. He said a bankruptcy and reorganization plan for the automakers would be better for the companies and the country.
During his time in the Ohio Legislature, he built a reputation as one of that chamber's most conservative members, pushing legislation for anti-abortion license plates and against state funding for stem-cell research. He criticized other Republicans who opposed a constitutional amendment to ban gay marriage and voted against a bill that ended a ban on Sunday liquor sales, saying he was dismayed that cultural attitudes toward Sunday have changed.
"There's a fight in our country about whose values will prevail," he said. "I think it's important to stand up for your values."
Source: Associated Press