James 'Jim' Gerlach
House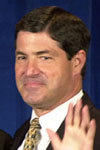 Birthdate: Feb. 25, 1955
Birth Place: Ellwood City, PA, United States
Residence: Chester Springs, PA
Religion: Protestant
First Elected: 2002
Gender: Male

Candidacy
Party: Republican
State: Pennsylvania
Office: House
District: District 6

Education
Undergraduate: Dickinson College
Degree: BA

Graduate: Dickinson College
Degree: JD

Jim Gerlach was born and raised in Ellwood City, Pa., northwest of Pittsburgh. He currently resides in Chester Springs. Gerlach earned a bachelor's degree and a law degree from Dickinson College.
Gerlach was elected to the Pennsylvania General Assembly in 1990, serving two terms in the House and two in the Senate. He was elected to the U.S. House in 2002.
Gerlach and his wife, Karen, have three children. Gerlach also has three stepchildren.
Profile
Jim Gerlach was re-elected to Pennsylvania's 6th Congressional District seat by a double-digit margin in 2010 after two narrow victories in 2006 and 2008.
A five-term incumbent, Gerlach represents a suburban Philadelphia district that was nicknamed the "Pterodactyl District" when he first ran in 2002 because of the odd shape it was given after redistricting.
The 2012 contest against Democratic challenger Manan Trivedi is a rematch of the 2010 election, which Gerlach won with about 57 percent of the vote.
Gerlach has supported efforts to repeal the 2010 health care reform bill, which he voted against in 2010. Gerlach also sponsored legislation to repeal a 2.3 percent excise tax on medical devices that was in the health care bill. Gerlach called the June 2012 Supreme Court decision upholding the legislation disappointing and stressed that the court did not determine that it was a good law, just that it was constitutional.
In March 2011, he reintroduced legislation that would expand federal regulation of so-called puppy mills. It would require all commercial breeders to be federally licensed and regularly inspected. It also would remove the loophole for breeders who sell dogs over the Internet.
Gerlach voted in 2009 against the approximately $800 billion economic stimulus package, calling it a "big government spending spree" without enough funding devoted to infrastructure improvements.
As a freshman representative, he focused on working with senior lawmakers on issues including prescription drug coverage for the elderly, the Head Start program and special education. In a major success for a freshman lawmaker, President George W. Bush signed into law in 2003 Gerlach's plan to designate a new veterans' cemetery in the Philadelphia area within four years.
His bill ended a longtime battle for an estimated 340,000 veterans in southeastern Pennsylvania who wanted to be buried close to home and not in the nearest cemetery that accepts casket burials, located 90 miles from Philadelphia. Three years later, however, the U.S. Department of Veterans Affairs announced the cemetery would be placed in a neighboring congressional district.
Gerlach has long pushed for funding for a Schuylkill Valley commuter rail. At one point he criticized the Bush administration for its plan to cut federal money for construction costs for the project from 80 percent to 50 percent.
"There's just not going to be enough state and local funds to do the project. It will be a dead project," Gerlach said.
He co-sponsored medical liability legislation and supported measures to encourage the preservation of farmland and open space. In 2009 he voted in favor of amending the federal definition of a hate crime to include gender identity and sexual orientation.
Source: Associated Press