Josiah 'Jo' Robins Bonner, Jr.
Josiah 'Jo' Robins Bonner, Jr.
House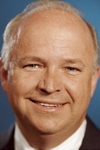 Birthdate: Nov. 19, 1959
Birth Place: Selma, AL, United States
Residence: Mobile, AL
Religion: Episcopalian
First Elected: 2002
Gender: Male

Candidacy
Party: Republican
State: Alabama
Office: House
District: District 1

Education
Undergraduate: University of Alabama
Degree: BA

Jo Bonner was born in Selma, Ala., and raised in Camden. He now lives in Mobile. He grew up around politics; his father was a probate judge in Wilcox County in the 1960s and early 1970s. He earned a bachelor's degree in journalism at the University of Alabama in 1982.
Bonner worked for U.S. Rep. Sonny Callahan, beginning with his first congressional campaign in 1984. Callahan later named Bonner his chief of staff and, when he decided to retire, endorsed Bonner to succeed him.
Bonner was elected to the U.S. House in 2002.
He is an active member of the Mobile community, where he is a member of the Rotary Club, Lions Club and Touchdown Club. He is on the Senior Bowl Committee.
Bonner and his wife, Janee, have two children.
Profile
Jo Bonner easily defeated three opponents in the 2012 Republican primary with nearly 56 percent of the vote. His challengers criticized his votes in favor of a $700 billion bank bailout and a bipartisan deal to raise the debt ceiling, but they couldn't get enough support to force a runoff. Bonner faces no opposition in the November general election for Alabama's 1st Congressional District seat.
Bonner got into politics working for Rep. Sonny Callahan, starting as press secretary and becoming chief of staff before he was elected to replace Callahan upon his retirement in 2002. Bonner won the Republican primary with 62 percent of the vote and the general election with 61 percent. In subsequent re-election races through 2010, he never got less than 63 percent of the vote.
Bonner has had strong support from the business community, including endorsements from the Business Council of Alabama and the Alabama Association of Realtors. In 2009, some business leaders encouraged him to seek the Republican nomination for governor the following year, but Bonner declined, saying it was not the time for a statewide race.
Bonner is a loyal Republican with a conservative voting record that earned him a 100 rating from the Americans for Tax Reform and a 95 rating from the American Conservative Union.
Bonner voted against the 2009 approximately $800 billion federal stimulus package supported by President Barack Obama, saying it was full of wasteful spending. He attacked Democrats' other spending proposals, claiming that during the first 50 days of the new administration, Democrats spent about $24 billion per day _ about $1 billion per hour _ most of which is borrowed money.
Bonner voted against the 2010 health care reform bill. Expressing his disappointment with the June 2012 Supreme Court decision upholding the legislation, he said, "This is a sad day for individual freedom, but it is a big day for bigger government and higher taxes." Bonner said he would continue to support a full repeal.
In 2011, he was among many Alabama officials who criticized the handling of claims from the BP oil spill in the Gulf of Mexico. In a letter to the Justice Department, Bonner wrote that most of those who filed claims had been paid only pennies on the dollar and had been given no explanation of how the Gulf Coast Claims Facility arrived at the amount. "For those who were denied outright, no explanation is given," he wrote.
Like Callahan, Bonner has built a reputation for his attention to constituent affairs and since 2008 has served on the House Appropriations Committee, where Callahan developed a reputation for directing federal dollars to his coastal district.
Bonner was among the Alabama officials who pushed for the European Aeronautic Defense and Space Co., or EADS, to get a $35 billion Air Force contract to build refueling tankers in Mobile. EADS initially won the tanker project, but Boeing protested and was selected in 2011. Bonner helped Mobile rebound in 2012 by landing a $600 million Airbus plant to build commercial airliners.
Bonner became chairman of the House Ethics Committee in 2010. In 2012, he was among five panel Republicans who withdrew from a long-standing investigation of Democratic Rep. Maxine Waters of California amid questions about their impartiality.
Source: Associated Press