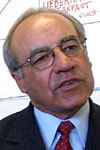 Birthdate: Jan. 23, 1947
Birth Place: Belen, NM, United States
Residence: Rialto, CA
Religion: Roman Catholic
First Elected: 1999
Gender: Male

Candidacy
Education
Joe Baca was born in Belen, N.M., and moved to Barstow, Calif., with his family when he was four. He now lives in Rialto.
Baca worked as a laborer for the Santa Fe Railroad before getting drafted into the U.S. Army in 1966. He served as a paratrooper during the Vietnam War, but did not see combat. He was discharged in 1968.
Baca earned a bachelor's from California State University-Los Angeles and then spent 15 years as a community affairs representative for General Telephone and Electric. He started Interstate World Travel in San Bernardino in 1989.
Baca served on the San Bernardino Community College District Board of Trustees from 1979 to 1991. He won election to the state Assembly in 1992.
He was elected to the U.S. House in 1999.
Baca and his wife, Barbara, have four children.
Profile
Joe Baca once described himself as "a little bit liberal, a little bit conservative and plenty dedicated to my district and my state."
He has long served a conservative, blue-collar Democratic area in the 43rd Congressional District. In 2012, the district boundaries changed and he is running to represent the newly created 35th Congressional District, though his home in Rialto does not fall within the new area's boundaries.
Baca has one of the more conservative House voting records of California Democrats and is a member of the fiscally minded, centrist Blue Dog Coalition.
Baca pushed to make it unlawful for retailers to sell violent and sexually graphic video games to children without a parent present. A federal appeals court ruled such bans unconstitutional. In recent years, Baca has pushed forward with efforts to mandate warning labels on video games.
He opposed the resolution authorizing the use of force in Iraq, but he voted for the supplemental spending bill to finance the war, saying it was needed to support troops in harm's way.
Baca has worked on behalf of many legal immigrants in his district, and he introduced a provision in the 2002 farm bill that restored food stamp benefits to immigrants that were cut off in the 1997 Welfare Reform Act.
He has also sponsored legislation to help some young illegal immigrants become American citizens and applauded recent efforts by President Barack Obama's administration to give work permits to a number of immigrants who are in the country illegally.
Baca has defended the 2010 health care reform law and says he will work to prevent Republican efforts to repeal the legislation.
Baca is a member of the Native American Caucus and chaired the Congressional Hispanic Caucus' fundraising committee, Building Our Leadership Diversity Political Action Committee, or BOLDPAC. He currently serves as the chair of the caucus' Corporate America Task Force, which focuses on diversity and Latino recruitment in boardrooms and industry.
Baca was ranked sixth on a June 2010 Latino Leaders magazine list of 101 most influential Hispanic leaders in America.
Source: Associated Press