Joe Linus Barton
House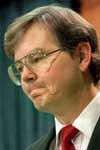 Birthdate: Sept. 15, 1949
Birth Place: Waco, TX, United States
Residence: Ennis, TX
Religion: Methodist
First Elected: 1984
Gender: Male

Candidacy
Party: Republican
State: Texas
Office: House
District: District 6

Education
Undergraduate: Texas A&M University
Degree: BS

Graduate: Purdue University
Degree: MS

Joe Barton was born in Waco, Texas, and now resides in Ennis. He earned a bachelor's in industrial engineering from Texas A&M University in 1972, and a master's in industrial administration from Purdue University in 1973.
After earning his master's, Barton was a plant manager and rose to be an assistant to the vice president for Ennis Business Forms Inc. He was chosen in 1981 to participate in the White House Fellows program and worked with the Department of Energy.
He returned to Texas in 1982 and became a consultant for Atlantic Richfield Co.
Barton was elected to the U.S. House in 1984.
Barton has one child and two stepchildren with his wife, Terri. He also has three children from a prior marriage.
Profile
Though he lost his chairmanship after the 2006 election, Joe Barton remains one of the top Republicans on the powerful Energy and Commerce Committee.
When Republicans reached a deal in December 2011 to delay the enforcement of new light bulb efficiency standards meant to phase out old incandescent bulbs for newer fluorescents, Barton called the provision "an early Christmas present for all Americans."
"This means Americans can continue to flip the switch on an affordable and reliable product, instead of turning to one that costs five times more and may not live up to manufacturers' promises," Barton said.
In April 2012, during debate over a cybersecurity bill, Barton raised concerns about government and businesses spying on citizens.
"Until we protect the privacy rights of our citizens, the solution is worse than the problem," Barton said.
Barton came under fire in 2010 while the Energy and Commerce Committee was considering new legislation that could increase demand for natural gas, when it was revealed that he had earned nearly $100,000 from interest on natural gas wells. At a committee hearing at the time, Barton said he was "a small, small partner'' in a natural gas well.
It later was revealed that the gas well transaction was between Barton and a man who donated more than $30,000 to Barton's campaigns and who urged him to create a federal oil and gas research program, which was included in the 2005 energy bill.
Considered his greatest achievement as energy chairman, Barton in 2005 pushed through the energy bill supported by President George W. Bush that had been delayed since 2002. A controversial provision calling for drilling in the Arctic National Wildlife Refuge in Alaska had stalled the bill until that part was dropped, with Barton's support.
Critics called the bill a boon for the oil and gas industry. It provided $14.5 billion in energy tax breaks, including $2.6 billion for oil and gas industries.
Barton's elevation to energy chairman in 2004 disappointed environmental groups, particularly those in Texas dubbing him "Smoky Joe." Barton had tried unsuccessfully to urge the Environmental Protection Agency to keep his home county, which has numerous cement kilns, off a list of counties violating federal air quality standards. The EPA eventually required Ellis County to develop new pollution controls.
Barton became Texas' most powerful Republican after former Rep. Tom DeLay, who was once majority leader, resigned in 2006 amid legal and ethical troubles.
Though Barton faced an opponent in Texas' May 2012 Republican primary, he won easily and faces Democrat Kenneth Sanders in the November general election.
Barton was a key player in helping DeLay redraw Texas' congressional districts in 2002. Afterward, one of Barton's aides sent out a gloating e-mail that mocked Democrats forced to run in more Republican-influenced districts.
Barton was the chief House sponsor of a balanced budget amendment and opposed President Bill Clinton's administration's attempts to lift the ban on gays in the military. He opposes abortion and supports the death penalty.
Source: Associated Press