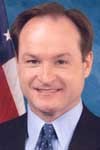 Birthdate: Jan. 1, 1965
Birth Place: Tulsa, OK, United States
Residence: Tulsa, OK
Religion: Roman Catholic
Gender: Male

Candidacy
Education
John Sullivan was born and raised in Tulsa, Okla., where he still resides. He graduated from Northeastern State University with a degree in business administration.
Sullivan has worked as a small businessman in Tulsa in the fields of energy, transportation, real estate and investments. He ran for a seat in the Oklahoma House of Representatives in 1994 and won re-election three times.
Sullivan won a special election in 2002 to fill the congressional seat previously held by former U.S. Rep. Steve Largent.
Sullivan checked himself into the Betty Ford Center in California for treatment of alcohol addiction in May 2009.
Sullivan and his wife, Judy Beck, have four children.
Profile
John Sullivan is a conservative Republican who has opposed many of the policies of President Barack Obama. He voted against the 2010 health care reform bill supported by Obama and Democratic congressional leaders.
Sullivan voted against the initial version of a financial bailout plan in October 2008 before backing it on the final Senate-approved version, a vote he described as a "bitter pill to swallow."
He was defeated in Oklahoma's 2012 GOP primary by Jim Bridenstine, a Navy pilot who leveraged tea party support and a potent assault on Sullivan's past to oust the five-term incumbent.
Sullivan has a record of being a team player for the GOP, voting 100 percent of the time for the George W. Bush administration in his first two years as a representative, before falling off to 95 percent support.
Over the years, Sullivan has focused on immigration issues. He is an opponent of amnesty for illegal immigrants and has repeatedly called for an increase in border security. He counted one of his biggest accomplishments in April 2009: securing a permanent U.S. Immigration and Customs Enforcement (ICE) operations office in Tulsa.
For years, he fought to get immigration agents assigned to Tulsa and made waves when he criticized city leaders for not doing enough to fight illegal immigration. Sullivan said the office will send a message that illegal immigrants "are not welcome here."
Sullivan was among the first House members to criticize Bush for his program to grant temporary legal status to undocumented workers. He said it appeared to reward "two groups of lawbreakers, those who came to this country illegally and employers who hired illegal workers."
Sullivan also has advocated lower taxes and bringing mental health parity to Oklahoma. During a tax day tea party protest of government spending in April 2009, Sullivan defended more than $160 million in federal funding he had recently requested, saying he will never ask for a frivolous earmark.
As a state lawmaker, Sullivan worked to create Oklahoma State University-Tulsa, sponsored tax-cut legislation and pushed through the Parental Notification Bill for minors who have an abortion.
Sullivan checked himself into the Betty Ford Center in California for treatment of alcohol addiction in May 2009.
After he was elected to Congress, Sullivan admitted that he did not disclose four misdemeanor arrests on a youth soccer coaching application while he was a state legislator. Sullivan was arrested at age 17 for simple assault and battery, at 18 for trespassing and loitering, at 20 for public intoxication and disturbing the peace and at 27 for failing to pay a speeding ticket.
Source: Associated Press