John Bayard Taylor Campbell, III
John Bayard Taylor Campbell, III
House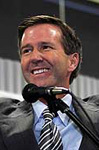 Birthdate: July 19, 1955
Birth Place: Los Angeles, CA, United States
Residence: Irvine, CA
Religion: Presbyterian
First Elected: 2005
Gender: Male

Candidacy
Party: Republican
State: California
Office: House
District: District 45

Education
Undergraduate: University of California - Los Angeles
Degree: BS

Graduate: University of Southern California
Degree: MBT

John Campbell was born in Los Angeles and now resides in Irvine, Calif., where he has lived for more than 30 years. He earned a bachelor's degree in economics from the University of California-Los Angeles and a master's in business administration from the University of Southern California.
Campbell is a fourth-generation Californian; his great-grandfather was elected to the California Assembly in 1860 as a part of Abraham Lincoln's Republican ticket. His father and grandfather worked in the newspaper business.
Campbell was a certified public accountant who worked for Ernst & Young in Los Angeles. He also spent nearly 25 years representing various car dealerships.
He was elected to the state Assembly in 2000 and to the state Senate in 2004. He was elected to the U.S. House in 2005 from the 47th Congressional District. He ran in the newly drawn 45th Congressional District in 2012.
Campbell and his wife, Catherine, have two sons.
Profile
John Campbell, the representative from California's 48th District, is known as a fiscally conservative Republican.
He has been a critic of the U.S. House Democratic leadership on budget issues, and chairs the Budget and Spending Task Force for the Republican Study Committee.
Campbell is seeking re-election to the U.S. House, but from California's 45th District because of the redistricting that followed the 2010 Census. His Irvine-based district was moved further inland, where voters are 45 percent Republican and 28 percent Democrat. In the 2012 primary, Campbell won out over Irvine Mayor Sukhee Kang, who Campbell faces again in the November general election.
Campbell was favored to win despite failing to get the local Republican Party's endorsement. Analysts said he lost support from local tea party members because of his votes supporting the TARP bailout funds and the repeal of "don't ask, don't tell." He was one of 15 Republicans in the House to vote in 2011 to repeal the military's ban on openly gay troops.
He lambasted President Barack Obama's administration for its handling of the national debt but strayed from the traditional Republican position of protecting the Pentagon from cuts. In an opinion piece he wrote for the Orange County Register in March 2012, he said defense spending should be subject to scrutiny for cuts just like any other type of federal expenditure.
In early 2010, the House Office of Congressional Ethics launched a review of Campbell and seven other lawmakers involved in a massive overhaul of Wall Street regulations. Ethics investigators were looking into Wall Street lobbyists' political contributions and the lawmakers' votes.
Campbell did not vote on the final version of the 2009 approximately $800 billion economic stimulus package.
Campbell co-sponsored a bill in June 2009 requiring presidential candidates to produce original birth certificates in reaction to conspiracy theories claiming Obama is not a natural born U.S. citizen.
Several watchdog groups in 2009 accused Campbell of taking hundreds of thousands of dollars from used car dealers and then introducing legislation exempting the dealers from consumer protection laws.
Campbell introduced an amendment during his first days in the House that blocked federal funding to cities that prohibited local officers from working with federal officials on immigration issues.
He has introduced and co-sponsored numerous bills to secure the border, make English the national language and punish so-called sanctuary cities.
As a member of the House Budget Committee, he has worked on legislation against the capital gains tax and the so-called death and marriage taxes.
Campbell also led the GOP charge to curb earmark requests.
His political career moved quickly once it began. In five years, he moved from a freshman in the California Assembly to a member of the U.S. House.
Campbell was elected to the state Assembly in 2000 and to the state Senate in 2004. After Republican Christopher Cox resigned his seat representing California's reliably Republican 48th District, Campbell won a special election in 2005 to replace Cox.
Source: Associated Press