John Conyers, Jr.
House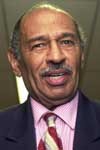 Birthdate: May 16, 1929
Birth Place: Detroit, MI, United States
Residence: Detroit, MI
Religion: Baptist
First Elected: 1964
Gender: Male

Candidacy
Party: Democratic
State: Michigan
Office: House
District: District 13

Education
Undergraduate: Wayne State University
Degree: BA

Graduate: Wayne State University
Degree: LLB

John Conyers was born in Detroit, where he still resides. He attended Wayne State University where he earned a bachelor's degree in 1957 and a law degree in 1958.
Conyers served in the Army Corps of Engineers from 1950 to 1954, including a year in Korea. He worked as a legislative assistant to U.S. Rep. John Dingell from 1958 to 1961.
After working as an attorney in private practice, Conyers served as a referee for the state Worker's Compensation Department from 1961 to 1963. He was a vice chairman of Americans for Democratic Action and a vice chairman for the National Council of the American Civil Liberties Union.
He was elected to the U.S. House in 1964.
Conyers and his wife, Monica, have two children.
Profile
John Conyers has served nearly 50 years in Congress. He is the second most senior member of the House _ after fellow Michigan Democrat John Dingell _ and one of its most liberal.
He has a lock on a 25th term in Congress after defeating Democratic challengers in the 2012 primary in the new 13th Congressional District, which includes parts of Detroit.
Conyers has earned a reputation for making little effort to get along with colleagues who don't share his beliefs. His influence sometimes is hindered by his refusal to compromise.
When Republicans in the House tried in July 2012 to push a bill that would ban abortions in the District of Columbia after 20 weeks of pregnancy, Conyers was one of a group of Democrats who criticized the measure as a war on women "We're again putting on this show for the extreme conservatives with an unconstitutional bill that has no chance of becoming law," he said. The bill failed.
Also in 2012, he voiced opposition to a House attempt to undercut a 2005 Supreme Court ruling that gives state and local governments eminent domain authority to seize private property for economic development projects.
A supporter of the 2010 health care reform bill, Conyers was in the audience when the Supreme Court heard arguments in March 2012 about the constitutionality of the law.
After President Barack Obama took office in 2009, Conyers and Sen. Patrick Leahy sought to establish a "truth commission" to examine the administration of President George W. Bush.
"Investigations are not a matter of payback or political revenge," Conyers said in 2009. "It is our responsibility to examine what has occurred and to set an appropriate baseline of conduct for future administrations."
The Detroit lawmaker used his position as chairman of the Judiciary Committee to ask sharp questions of the Bush administration. He led a probe into the firing of several U.S. attorneys, questioning if the firings were politically motivated.
Conyers also took the Bush administration to task over its handling of the war in Iraq. He voted in 2006 against a $72.4 billion supplemental appropriation for the war, concerned that it would support a "failed policy."
Prior to Conyers' 2004 re-election, his attorney said the House ethics committee was looking into allegations that Conyers improperly used his congressional staff to work on campaigns, including his wife Monica's unsuccessful bid for a state Senate seat.
The committee was unable to launch new investigations because its five Democrats and five Republicans blocked each other from moving forward.
In 2010, Monica Conyers was sentenced to 37 months in prison for taking bribes while on the Detroit City Council.
Conyers was President Bill Clinton's chief defender during impeachment hearings before the Judiciary Committee. He often attacked independent counsel Kenneth Starr, at one point calling him a "federally paid sex policeman."
Conyers has called the impeachment "the most tragic event of my career in Congress, in effect a Republican coup d'etat in progress."
Conyers has been a champion throughout his career of causes for black voters. When he was elected to the House in 1964, he was the most vocal of the five blacks in the chamber, speaking out early against the Vietnam War.
Source: Associated Press